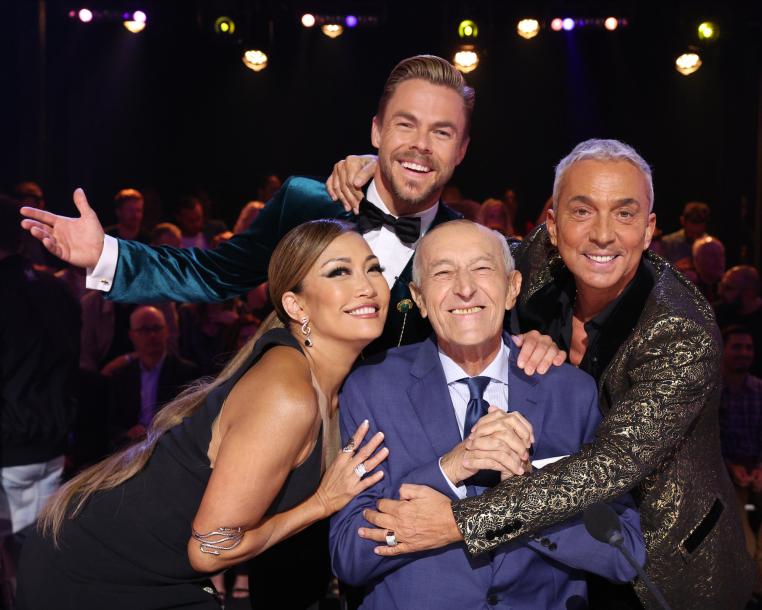 Len Goodman is saying goodbye to Dancing With The Stars as he retires at 78.
Goodman is officially stepping down from his position as chief judge on the Disney+ dancing competition series.
He also announced the news during Monday's DWTS program, where he was given a standing ovation by the audience.
He said:
"Doing a live show you have to be at the top of your game and quick to react. And as one gets older, then things start to get more challenging," he tells PEOPLE. "I haven't fallen asleep or started dribbling yet on the show, so I thought it's best to go before I start to do so!"
"I will miss the California sunshine, working with my fellow judges and the camaraderie with everyone on the show," he adds. "I'll miss seeing the celebrities developing into dancers and I will miss being part of one of the most successful shows on TV."
Val Chmerkovskiy, Emma Slater, Gleb Savchenko, and others "Dancing With the Stars" pros talked to Page Six about Len Goodman's retirement.
Following her and Trevor Donovan's elimination, professional dancer Emma Slater, who is also from the UK like Goodman, told Page Six in the ballroom: "It got me in my feels, if I'm honest. It caught me off guard. I didn't expect to feel as emotional as I was."
"Len, I've known him since I was 10 years old. He would judge competitions [in England] and he would always want me to win," she continued.
"I went to every competition that he judged and my parents were elated every time he was on the panel. I remember going up to him as a kid and thanking him for believing in me. Twenty years later, I did the same thing tonight … and I cried my eyes out again."
Gleb Savchenko, a fellow professional, described Goodman as "a legend" and said it will be difficult to compete without him because he is "the heart" of the ballroom.
"All of the critiques and all of the little points that he always said to us, we all took on board and we all worked on it because he is the representation of ballroom dance," he said.
"So for him leaving the show, it's heartbreaking. I got emotional just hearing it. We just all love Len so, so much, and not having him, it'll be a missing piece," he added.