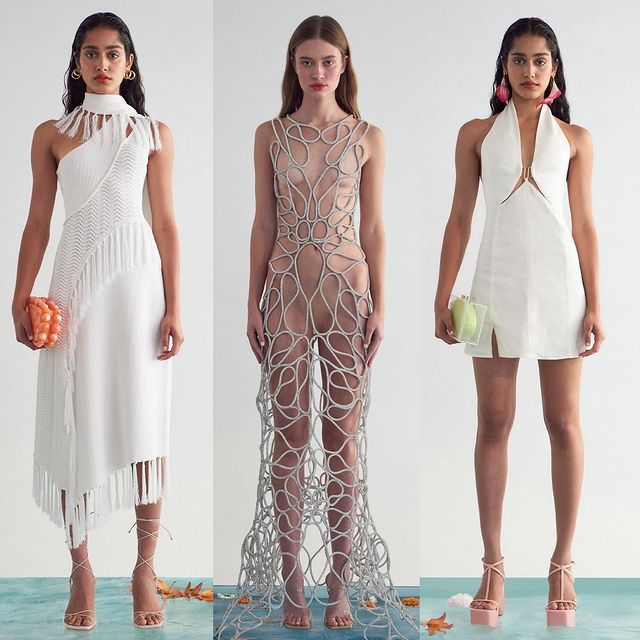 Cult Gaia Resort 2023 Collection were more advanced and updated than that of 2022. I  guess fashion actually evolves with time.
For Resort 2023, the fashion house went all out with amazing color combinations that will keep you glue to this article.
Read Also: Lookbook: Shushu Tong Spring Summer 2023 RTW Collection
However, not all of the pieces were quite as daring. Hekmat also tried out more subdued styles, including an elegant brown viscose halter dress or a white off-the-shoulder linen-rayon dress with puffy sleeves. But she couldn't resist giving a tangerine viscose tank dress some flair by tying its long train to a golden bracelet that could be worn as a leash for a pet. The designer declares, "I adore the drama."
For Cult Gaia, having a relaxed, ready-for-vacation vibe is nothing new. But Hekmat did make an effort to add some newness to the resort collection with a few fresh allusions. She used the space-age 1960s—think Barbarella—as one of her major sources of inspiration this season, translating it into pieces with big circular cutouts.
Read Also: Fashion History Sessions: The fashion history of the 1500s
They were working on an orange crochet top, which was composed of multiple tubes covered in the summery fabric and had a body below. We concentrated on negative space and how to enhance a woman's shape and form, according to Hekmat. They weren't as effective on the circular pink cotton bra, which had a faintly costume-like feel to it.
See full collection below;