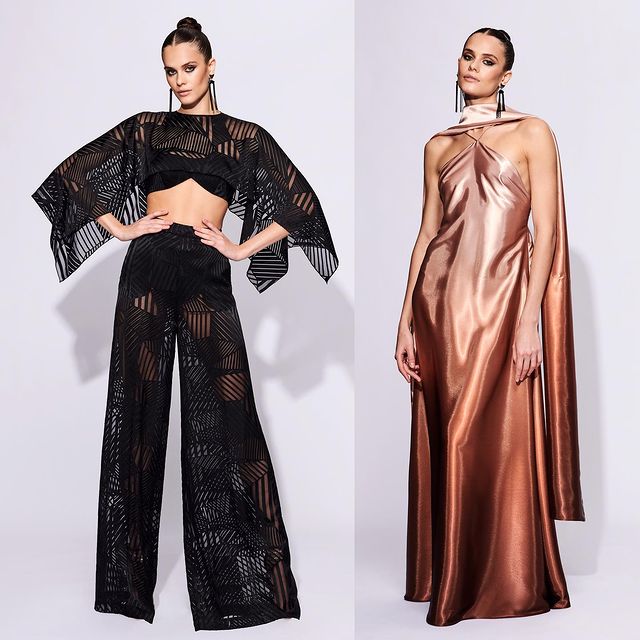 For 2023, Christian Siriano aimed to please as he gave put in a lot of work in the production some would even say he aimed for perfection with Wide-leg pants, a simple halter dress, and a capelet worn with a shirt. The fabric's fluid texture gave otherwise simple shapes a touch of beauty.
Read Also: LookBook: Christian Siriano Pre Fall 2022 Ready To Wear Collection
The one thing that makes Siriano's ideal for the women who wear his garments exacting is that it is always gorgeous.
"We have such a wide spectrum of ages and consumer kinds now; everyone wears my world a little bit differently, you know." But that doesn't mean he plays it safe; in fact, some of the collection's best works fully indulged in whimsy and imagination.
Black velvet and baby pink silk dresses spoke to a primal idea of what an evening gown should be. One with a black bodice punctuated by pink ruffled cap sleeves and a sweeping mermaid shirt that ballooned at the drop waist was instantly alluring.
A column of black velvet clothing was adorned with a dramatic ruffled peplum at the hips, another at the knees, and another around the calves before pooling in a subtle ruffled-edge train—it was a minimalist vision for the maximalist at heart.
Read Also: LookBook: Christian Siriano Spring Summer 2022 Ready To Wear Collection
Slim-fitting spaghetti strap sheath with a high thigh slit, and into a bustier with a dramatic peplum and a pair of matching trousers.
See full collection below;