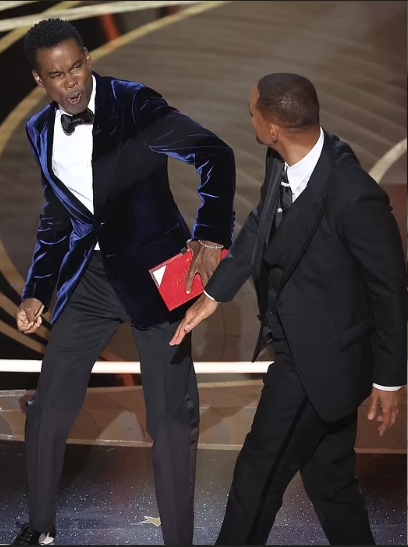 American comedian and actor, Chris Rock has spoken about being slapped by Will Smith during the 2022 Oscars.
The 57-year-old talked about how he tried to move past the incident during an appearance at the Fox Theatre in Atlanta on Friday. He went on to compare Smith to the currently incarcerated hip-hop mogul Marion Hugh "Suge" Knight Jr.
READ ALSO: Yul Edochie Flaunts His Daughter, Issues Warning To Boys
Glamsquad noted that Rock's appearance took place just hours after the 'King Richard' star apologized for his actions in a video that was shared on his Instagram account.
Rock said via CNN that
"everybody is trying to be a f***ing victim. If everybody claims to be a victim, then nobody will hear the real victims."
He then expressed that going through the experience of "getting smacked by Suge Smith" was something that he had to work through quickly.
Rock noted that, after getting slapped, "I went to work the next day, I got kids."
He also quipped: "Anyone who says words hurt has never been punched in the face."
Glamsquad reported that Will Smith shared an apology video for Chris Rock. He apologized to Rock as he addresses why he didn't apologize during his acceptance speech for best actor.
Smith also extended his apologies to Rock's mother, Rose Rock, and brother with whom he shares a personal relationship, Tony Rock for his behaviour.
Responding to a question asked about his wife, Jada Koren Pinkett asking him to hit Rock after she rolled her to his joke, he responded that No. Read here
READ ALSO: 2023 Election: Tee Mac Makes U-turn After Saying Tinubu Is Not Qualified To Become Nigeria's Next President