When celebrities go into relationships and marriages, there is this excitement and buzz that comes with it especially on social media.

However, history has shown that not all that glitters is gold as most of these relationships marriages can be a one-time-catch-cruise merriment or just say; I-love-to-hate-you and hate-to-love-you situations.

While few have stand the test of time, same cannot be said about others that have fallen by the wayside.
Glamsquad Magazine refresh your memories on the top celebrities whose break up stories shocked the entertainment industry.
Lilian Esoro and Ubi Franklin
Lilian and Franklin were the perfect matches from their adorable pre-wedding shoot that moved us into the realms of fantasy; we thought they were the perfect combination of a cute man from the music industry and a beautiful lady from the film industry.  
The duo tied the knot in a lavish wedding in November 2015 and separated a year later, four months after the birth of their son Jayden. Their divorce became official in February 2021. The breakup stems from infidelity on the wife's part and domestic violence from the husband.  In a series of interviews that Franklin granted, he noted that his marriage has been shaky right from the engagement, but went ahead anyway. He also said that the biggest money mistake he has ever made is the money he plunged into having a huge wedding celebration.
READ ALSO: "Love is war" – Okoro Blessing reveals
Damilola Adegbite and Chris Attoh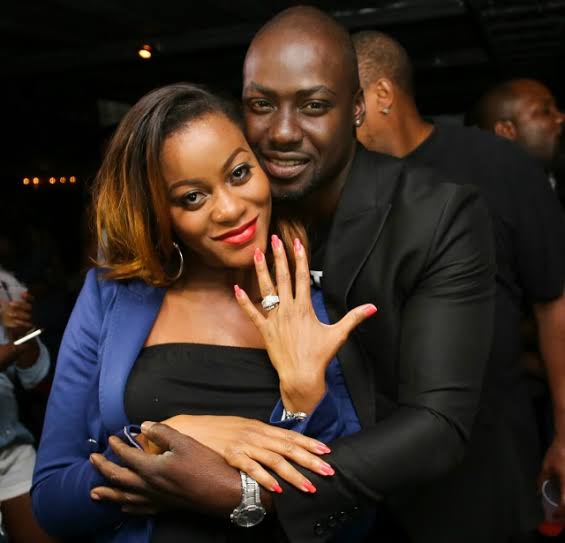 These actors captured our hearts with their public appearance and roles together in the popular TV series, Tinsel. They engaged in August 2014 and got married in a  private ceremony in February 2015. Attoh had boasted of how lucky he was to find a hot Nigerian woman. He revealed at the time that the main attraction between them was the fact that their birthdays were one day apart. Attoh's birthday is May 17 and Adegbite, May 18. They had a son, Brain. 
In a sudden turn of events, they announced their split after two years in 2017.  
In 2018, Attoh got married to Jenifer Bettie, who was based in the US at a private ceremony in Accra.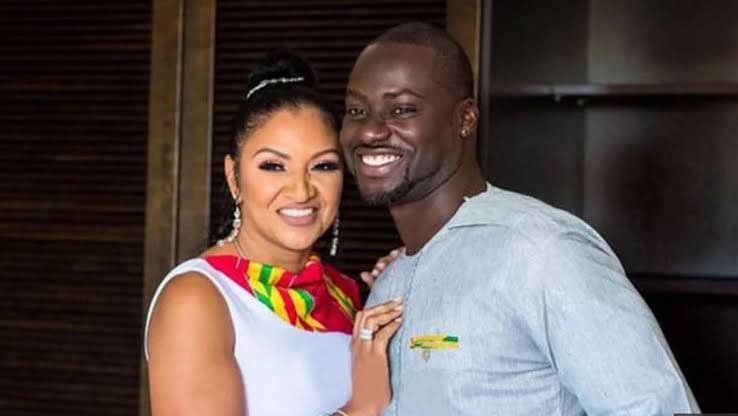 Tragically, Bettie was killed in May 2019 by a gunman. 
Fathia Williams and Saheed Balogun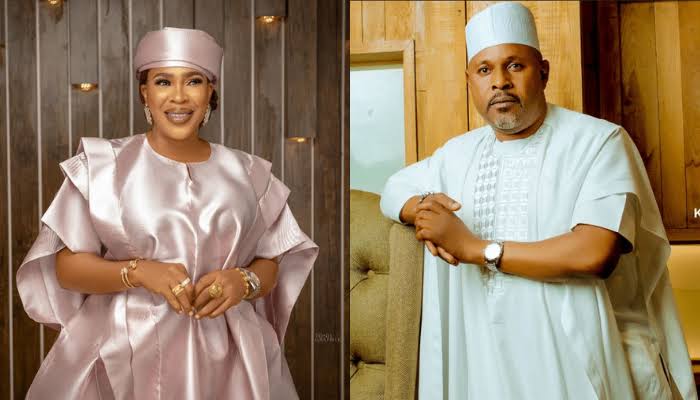 These two veterans in the Nollywood industry have come a long way. Sharing the same birth date, they got married on 7th September 2000. It was the talk of the town, it made many of their fans say "God when?"  The marriage became a shadow of itself in 2006 following the news of their separation, shortly after the birth of their second child. No one can ascertain what truly transpired. They officially divorced in 2014.  
Osas Ighodaro and Gbenro Ajibade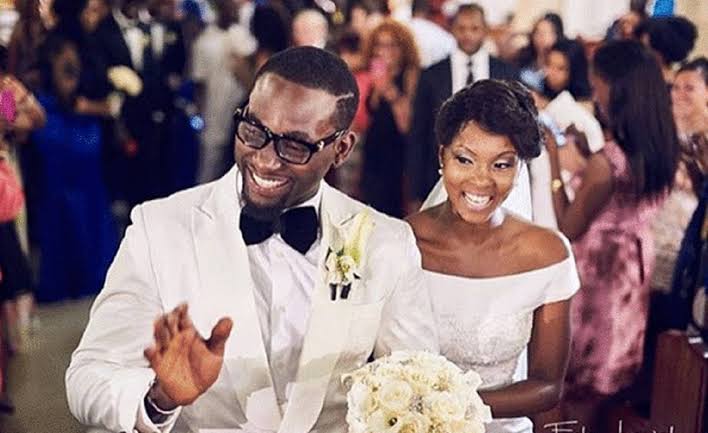 Again, these set of Tinsel stars got engaged and walked down the aisle in June 2015. However, the "together forever" love story between them was short-lived.   During their entire marriage, breakup rumours revolved around them and in October 2018, they separated. Gbenro called his wife out on social media for allegedly abandoning their daughter while she partied.
Jessica Kakkad and Mofe Duncan   
The shock of the crash between these two is still unbelievable as the media didn't get wind of it until a year later.
The duo got married in 2015 and dissolved their three-year-old union in a drama-free way in 2018.  
Jessica broke the news on her Instagram page after a fan asked if she was still married. She responded by saying that she was no longer married! When asked if she would get married again if the right man ever shows up. And she said yes. 
Mofe also confirmed the news on his Instagram page.   
Maureen Esisi and Blossom Chukwujekwu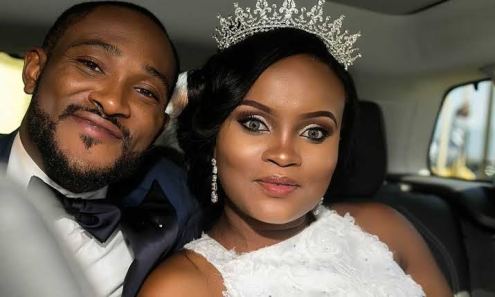 The dissolved union of these two former lovebirds still echoes following series of dramas that have ensued.
They got married in 2016 but went their separate ways in 2021.  While Esisi did all sources of things to get attention on social media, she revealed that she had suicidal thoughts in a monologue posted on her YouTube page. 
She said that although it was not easy, leaving the 2-year-old marriage "was the best decision ever". 
She said, "Let's look back two years ago when I left my marriage. I left my marriage penniless broken and penniless. I can remember it like it was yesterday. I have no money in my account. My business had suffered so much."  
"And I was broken. I had a friend who felt it in her heart to be there for me. I love her to bits. I moved out of my then home and moved into this place that you all love today. 
"It wasn't easy, I swear. For the first time in my life, suicide felt like it was the only thing to do. How time flies! Two years later and I will tell you this for a fact. It was the best decision ever." 
Blossom on the other hand gave marriage a second chance when he tied the knot traditionally with 'Ehinome Akhuemokhan' on Friday, 20th May 2022.
Yvonne Jegede and Olakunle 'Abounce' Fawole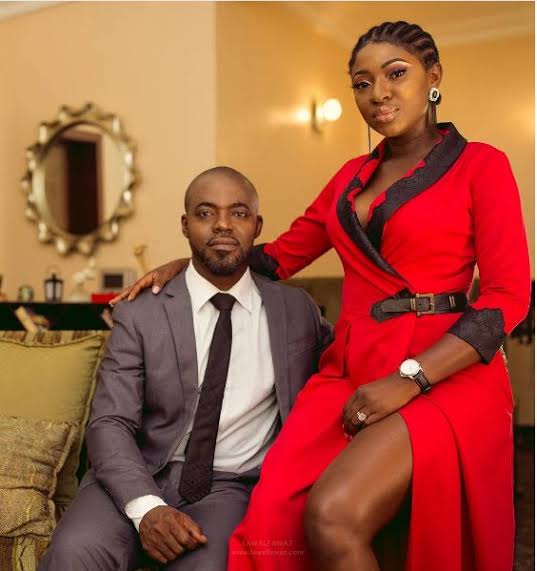 These two didn't stay long together as anticipated by their fans. They got married in February 2018 but separated a year later.
Yvonne confirmed the news in an interview with Pulse TV in March. She noted that she quit the marriage three months after she got pregnant with their son, Xavier.  
She said, "We started having issues before the birth of Xavier. I think I was about two to three months pregnant when the issues came. Immediately the 'issues' came, there was never a dull moment, it just kept going up and up and it got worse and it got worse and today here we are."  According to reports, the paternity of the child caused their rift. Abounce, who is the son of a late actress, Bukky Ajayi, was absent when Yvonne dedicated their son and remained mute.
Tiwatope Savage and Tunji 'Teebliz' Balogun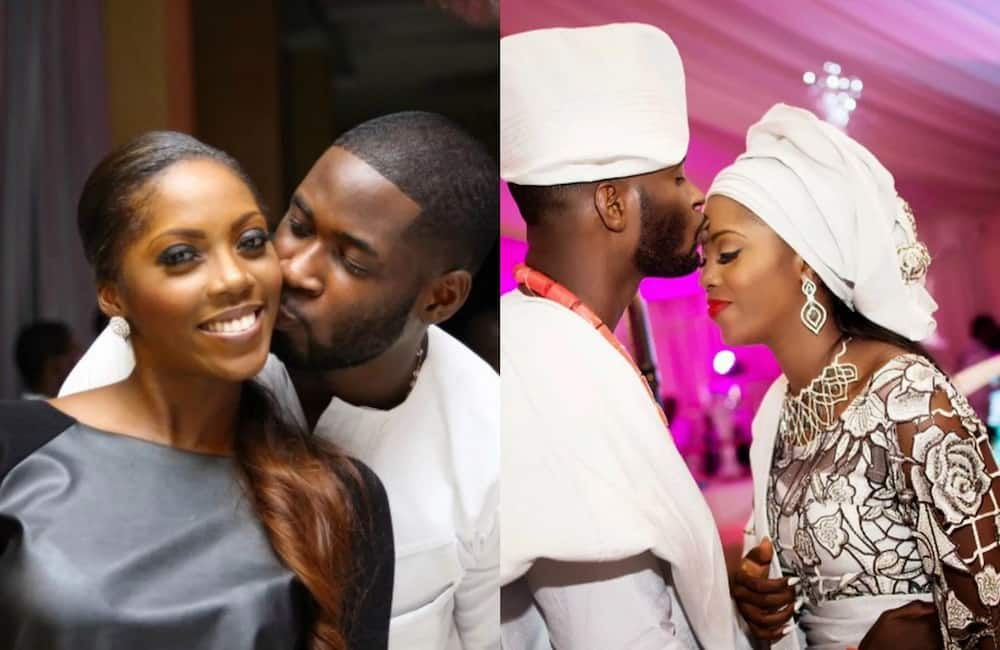 The news about the separation of these two broke the internet in 2016 after they called each other out over infidelity.
They got married traditionally in 2013 and went on to have their white wedding in Dubai in 2014.  While Teebliz accused his ex-wife of having extra-marital affairs with male celebrities, Tiwa accused her ex-husband cheating, domestic violence and drug abuse. 
All efforts by relationship and marriage counsellors to restore their union proved abortive. They have a son together named Jammal.  
Tiwa Savage has since moved on and is in a relationship while Teebliz who relocated to the United States welcomed another son last year with his lover.
Tonto Dikeh and Olakunle Churchill 
The echo of these two names definitely brings back memories of a greater mishap. Scandalous actress Tonto Dikeh and Business Mogul Olakunle Churchill got married in 2015 but parted ways in 2017 producing a son.  Allegations of infidelity and domestic abuse were the centre of their separation. 
In an interview with Media Room Hub in 2017, Tonto said Rosey Meurer who was Churchill's PA at the time was the cause of her marriage breakup noting that there was an affair between the latter and her ex-husband.
 In 2021, Churchill got married to Rosey Meurer and they have a son together.  
The ever radiant actress and mother of one decided to give love a chance again. She got into a relationship with Prince Kpokpori. Their relationship came into the limelight after Tonto revealed his identity on her Instagram page on his birthday.  
The relationship turned into a mess three months later.
Fancy Acholonu and Alex Ekubo 
The engagement between Alex and US-based model, Fancy in in Los Angeles was the talk of the town. Preparation was being put in place for the traditional marriage and white wedding. 
In a shocking turn of events, Fancy took to her Instagram page on Thursday, 26th August 2021 to reveal that she has ended her relationship and engagement with Alex. 
The statement she posted read;  "Hey guys, I am writing to inform you all officially that I have ended my relationship and engagement and I have called off the wedding with Alex Ekubo. I am aware this may be a shock to many people. 
"I made the best decision for myself because it is important that everyone finds happiness and live in their truth. At this time, my family and I ask for you all to please respect our privacy. Thank you so much".  She deleted their fan page and unfollowed him on Instagram.
Chioma Rowland and David 'Davido' Adeleke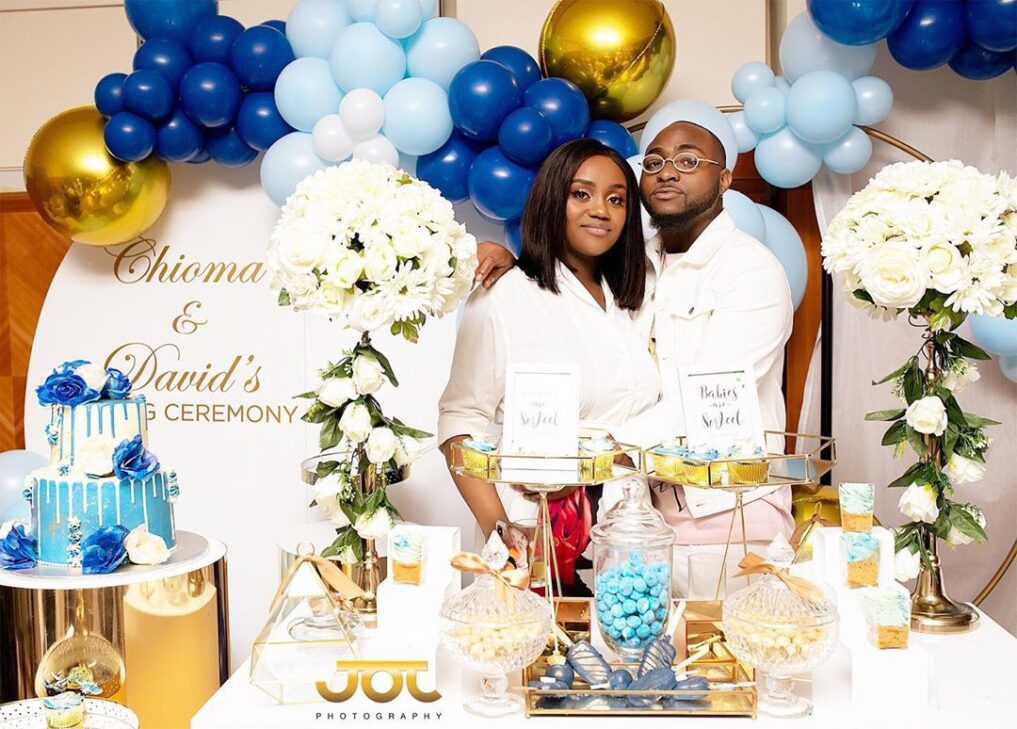 The relationship between Chioma and Davido allegedly ended in 2020 after the latter claimed in an interview that he was under pressure to marry.
They got engaged in 2019 but things turned sour after Davido was spotted getting cosy with an Instagram Model Mya Yafai. 
The father of three came under fire as some fans accused him of humiliating the mother of his only son, Ifeanyi, despite his Assurance.
Korra Obidi and Justin Dean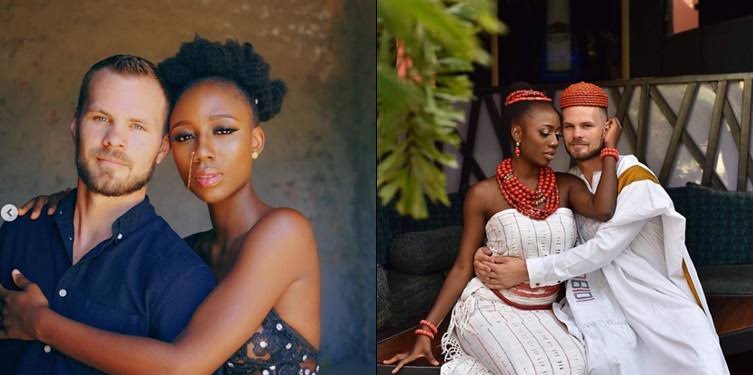 Indeed some fans are still in shock following the breakup of Kora and her husband Justin. 
The duo got married in 2018 and celebrated fourth anniversary earlier this year.   The shocker came when Justin took to Instagram to share that he was leaving the dancer at the time they welcomed their second child.  
In his now-deleted post, he wrote, "I am tired of narcissism, cheating and lack of accountability. I have been trying since 2018 to save our marriage, and if I don't do exactly what she says, she divorces me. I have been a prisoner that has his family used against him if she does not get exactly what she wants." 
"Korra Obidi and I are getting a divorce. It's over! I won't be treated this way longer. I did my absolute best to make it work."  "I didn't want this. I did my best. My heartbroken. I supported her. I loved her. I don't deserve the way I was treated." 
Fans suggested that it was a prank for Kora to sell her new book. However, Justin noted on his page that it was real.
While many believed that she was a cheat and their children 'June and Athena' might not belong to her husband.   Justin again took to his Instagram page to correct these assumptions. He said Korra only cheated at the beginning of the relationship, and their two kids were his.  Breaking her silence, Korra didn't admit or deny the accusations of her ex-husband but said she is fully committed to taking care of her newborn baby and herself.
Nkechi Blessing Sunday and Opeyemi Falegan 
The love which existed between these two made some of their fans ask 'God when? We had all shades of social media loved up moments with many bloggers referring to them as married.   Nkechi and Falegan have these striking resemblances which further convince fans that they are a match made from heaven.  
The news of their messy breakup spread quickly like wildfire with many wondering what could have gone wrong. The whole drama allegedly began after controversial blogger Gistlover alleged that the actress slept with a man for an endorsement deal. 
Falegan confirmed their split on his Instagram page and noted that he does not want to be associated with Nkechi who he alleged is a lesbian. 
He said; "I don't want to be known for any notoriety or anything controversial.  "I have a name, that name is my pride. I want to be known as someone who added value to people and who will keep doing the work for people.  "I have a name that I am trying to protect here. Anything at all, husband of who? Where did you see the husband? "I'm not the husband of a lesbian, put respect on my name." 
In response to his statement, Nkechi also confirmed the split up and warned that anyone who is with him should be ready to feed him.  
In a video shared by Falegan, he stated that he had publicly apologised to the actress to let the matter slide and not because he wanted her to come back. In an Instagram live session with Media Personality, Daddy Freeze, Falegan admitted he messed up and stated that he still loved the actress. 
Hours later, 
revealed that he broke up with the actress because of her hygiene.  In the video, he said, "I apologised to her because I just want bygone to be bygone. Not because I want her back. Are you serious? Do you know why I left? I left for a different reason. Personal hygiene. 
"You have to tell a woman to change her pants in three days. You have to tell a woman to brush her teeth in the morning. After the whole thing, everywhere is messed up. Do you want me to manage that? No, I wouldn't." 
In response, the actress debunked his claims, adding that she didn't even own panties since she was 18.  "I'm glad your lies are staring into your face. It's a known fact that I NBS have never worn a pant since I was 18. Opeyemi, just wow.
The actress also said she is not not ashamed of falling in love again, despite all she has been through in previous relationships.
READ ALSO: Honourable Opeyemi Falegan reacts to UNICEF scam accusation