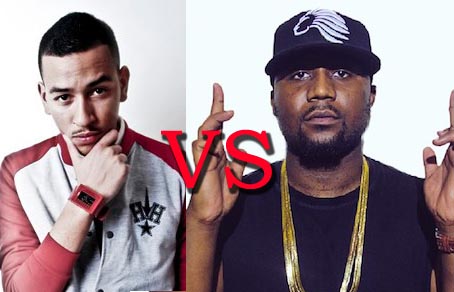 South African rapper Casper Nyovest whom Nigerians know notably for his MAMA awards winning hit song Doc Shabalezza today posted a cell phone video on Instagram of fellow south African MAMA awards winning rapper Aka on stage.
The video was a short clip of Aka kicking and shoving a fan off the stage. It was an excited fan who made it up the stage to dance with Aka as he was performing one of his hit songs. But unbeleiveably Aka got angry and started kicking at the fan furiously and shoveed him off the stage.
See the Instagram post here

For about a year now Aka and Casper have been posting indirect statements at each other on social media, but this time Casper Nyovest directly mentioned his name and posted a video of his rival on Instagram.
In the post he wrote "I have no hate for you even though I am hurt and embarrassed but I know that karma is a real thing. You might think you'll get away with everything cause you think you're higher than the world but I promise you king. Last month you assaulted an innocent fan who jumped on stage cause he was enjoying your performance and your team cleaned it up saying there was no evidence of such an incident. Carry on treating human beings like this and your day will soon come @akaworldwide"
Is this the South African version of tupac and biggie beef? What do you think about Aka's behavior seeing this video?