Actress, Caroline Hutchings slams troll who dispute her new age, calling her a liar.
Caroline Hutchings who celebrated her birthday yesterday has got slammed by a troll who stated that the actress is not 35 as she claimed but instead 42.
Read Also: "I have failed in my life and I'm not denying it" – Tonto Dikeh
One shared a screenshot of what google stated as her age.
"But Google says you're 42", he wrote.
Reacting, Caroline wrote: 'Intelligent people know any one can put anything on Google without facts . You ain't Intelligent in 2022'.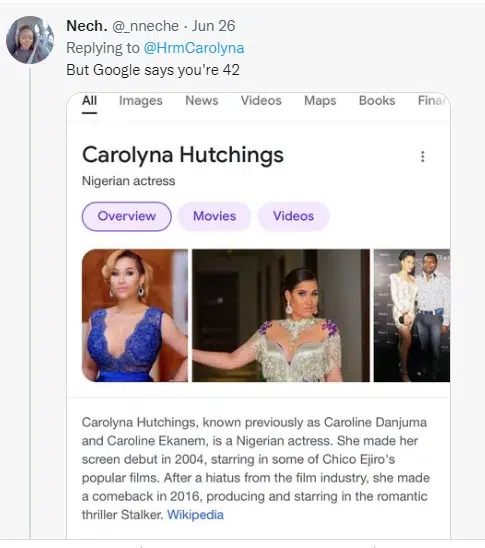 Another said: "Na true…35 years since 2007. Abeg shift..". Replying him, the actress cussed him out saying: "Your mother the old witch is the liar".
Read Also: BET Award 2022: See complete list of winners
See more comments
𝚁𝚊𝚢 𝚂𝚕𝚊𝚢®: Does it mean you're just 5yrs older than I'm? And when you shot deadly kiss you were 5? Wow! That can't be true na? E no suppose concern me cux it's your age not mine, but Pls clear me. Cux u debuted in 2004.
christobel: Did u say she is 45? We agree….now rest!
Show replies
Beyond Dream Replying to @HrmCarolyna: Ah na wa o, senior Caroline that was the library prefect in African Church Model College, Ogba. I was in jss 1 at the age of 9 years then while you were in ss3. How come you are 35 years now. The same age group with me now?