The last day of our tour came suddenly too quickly. It is amazing how four eventful days have rolled by. Tomorrow, Friday, we shall be heading back to Nigeria but for today, we have three more places to visit.
The night before, our tour guide, Alicia, had sent a message for every member of the team to wear flat shoes. Word had gone round we were going to ride the Segway PT (Personal Transport). Whatever that was, none of us knew it. We were left to imagine it. This message had created anxiety and little bit of excitement for the unknown. And this experience we were to have at the Spier Winery.  Done with breakfast, we once again loaded ourselves into the tour van as we began our journey to Spier and to an experience we would talk about for a long time to come.
Like many of the wine properties, we all fell in love with the environment and no sooner than we arrived, Emeka who seemed to have an affinity with photography, he had started modelling for Oscar. It was a beautiful place which he wanted to capture by all means. Just behind the reception room ran a beautiful stream. Spier combines farming with lifestyle and known for being the most historical gabled farm in Cape Land. In all, Spier has 21 gables in the farm and own the oldest cellars in South Africa. Started by the Dutch in 1692, its Rose wine is currently selling in the Nigeria market while its 21 gable Pinotage has won several awards.
Our guide at Spier was a friendly young man who led us through the grounds, quite some distance to where the Segways were packed. As it turned out, the Segway is a two-wheeled, self balancing electric vehicle. Segways are the means of transportation through the more than 1,000 hectres of farmland. Each Segway we were told, costs about $10,000 and a fall from this wonder machine could be fatal. Although we were all anxious to go on it, we were told that we had to take a driving class which we did for about 30 minutes to perfect how to manoeuvre it. Not even those who have been driving for years could pull this trick easily but once perfected, it was hard to get us off the Segways. Perhaps the one person who had it tough sailing through was our beautiful Konye who could not hide her phobia for driving.
And so our journey to the farmlands began, the ride was simply exhilarating as we glided up and down the uneven road, snaking the path between the rows of well-cultivated grape vines.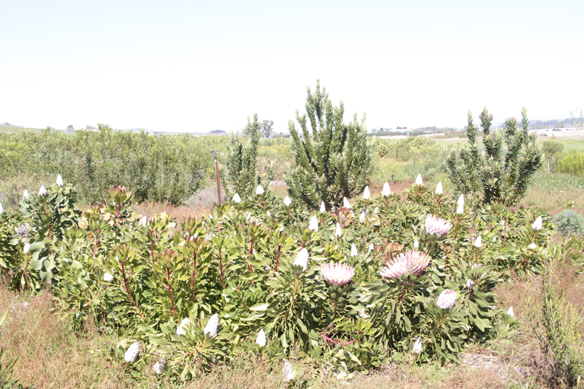 On our return trip, we made a stop at the Protea Garden. Beside grapes, Spier also cultivates Protea, a beautiful flower with pink buds. This classic flower we told by our guide, has been named the South Africa national flower!
Wine tasting after this experience was like icing on the cake and the hospitality of Spier will for ever be remembered as their well-packed wine gift pack was like a beautiful accessory on our shoulders as we made our way off the farm.
Our next port of call was Nederburg winery, makers of Chamdor, one of the South African wines popular in the Nigeria market. Unlike some others still trying to enter our market, Nederburg has been in Nigeria for 10 years now. We met Wilhelm Pienaar, winemaker who took us through the wine tasting process at their Red Table Restaurant.
The chilly evening weather was beginning to bite when we set out for Asara our last visit for the day and our very last visit on this tour. It was here we were supposed to spend out last evening on the Cape Wine Land Tour. Asara Hotel and Wine Estate is a beauty to behold and the view from the spacious and lavishly furnished bedroom, absolutely breathtaking. The thrill for all the journalists was the large size Jacuzzi in each room. We couldn't wait for when dinner would be over so we could come soak our tired and cold bodies in a warm bath.
Our host, Pete Gottgens, General Manager, Asara, had invited other wine producers to meet with us. We met Morne Van Rooyen of Pernod Ricard Wines. They produce the Long Mountain white wine and the Gecko Ridge Pinotage. Although they have made inroad into Nigeria, business is yet to take off.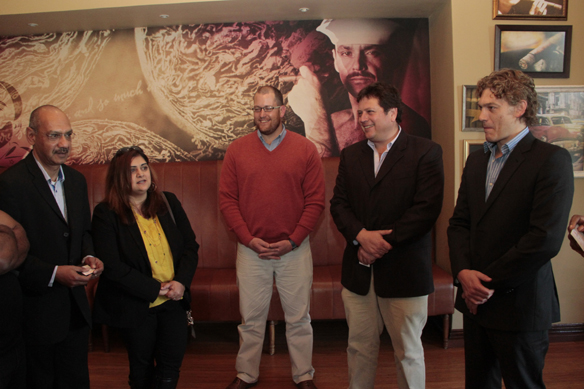 Bunty Khan, director of Croftsales, caught my attention when she was introduced. She is one of the few women doing well in a predominantly male dominated wine industry.   Her achievement in the wine industry captures the struggle of many non whites who come from the lower class to carve a niche for themselves in the competitive wine industry.
Her brand therefore was so named Cape Dream with the map of Africa uniquely on it depicting the common dream of the African people to emancipate themselves and fulfil their dreams. Although the company started about five years ago, it is already exporting to Italy, Russia, USA, Germany etc.
Asara produces not so traditional wines. Their products are more 'new age' says Pete Gottgens. Asara produces the soft, elegant and classic merlot while their red wine, a fusion of Pinotage and Chiroz is easy to drink and up front. Their Cabernet Sauvignon now sells at the Hilton Hotel in Abuja while their product is being distributed in Nigeria by Nigeria German Pharmaceuticals.
Dinner was fun with four producers and seven journalists. Conversation was smooth as we sampled each delicacy and the wine that goes with it. It was a great way to cap the tour that had been nothing but fun and revelation not just of wine and food but of the people and the land. As we rose to retire to our rooms, I wished I could have this ambience for keeps. I was sure my sleep would be sweet this night. It just had to be because by morning, it would be time to begin our return journey to Lagos ad to its hustle and bustle away from this fairy tale creation that Asara graciously provided.
Related articles across the web