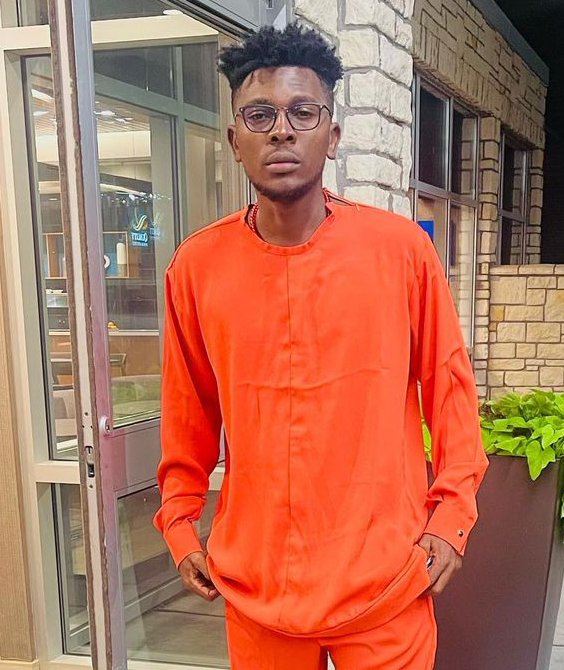 Glamsquad reports that Cameroonian singer, AmbeDiSing has called out his countrymen for always playing more Nigerian music in their clubs.
Ambe took to his Facebook account to reveal what he has observed about Nigerian music.
According to him, many Nigerian clubs in the US play ninety-five percent of Nigerian music but when he returns to Cameroon, he finds that his people also play majorly Nigerian music in their clubs
Read Also: Family releases funeral arrangements for Rico Swavey
He further called on the DJs to play songs by Cameroonian artists in their clubs, not Nigerian songs.
He wrote,
"I have been to many Nigerian clubs in the US and they play 95% of Nigerian music, then been to Cameroonian clubs infact was in one last night after my show, with a friend and his friends, trust we were all Cameroonians.

"They spent over 20k $ in that club yesterday even more and all through their spendings i didn't hear one Cameroonian song playing.. all i heard was Dorime and they played 70% Nigerian Music, 20% of Ivorian music and 10% American music, is it that we not patriotic or we do not have good Cameroonian songs to request as Cameroonian Ballers in this clubs or what?

"I mean i was there too but all i heard was the hype man screaming AmbeDiSing AmbeDiSing, i had to leave early cus i was not enjoying it anymore.. now i wish to plead with our Cameroonian Ballers in and out of Cameroon to please try to request infact it ur right to impose our songs to be played when you ball in clubs worldwide.

"It's your right for them to play it while u spend, we know y'all have the money plz ask them to play our songs while u spend that dollars it's our culture no matter what it is our identity and that's what u use to describe where u from, they need to know us through our music.

"Y'all cannot be spending that Cameroonian sweat!!!!!!! on Nigerian music while Nigerians spend their Nigerian sweat on Nigerian music.. do the maths oh".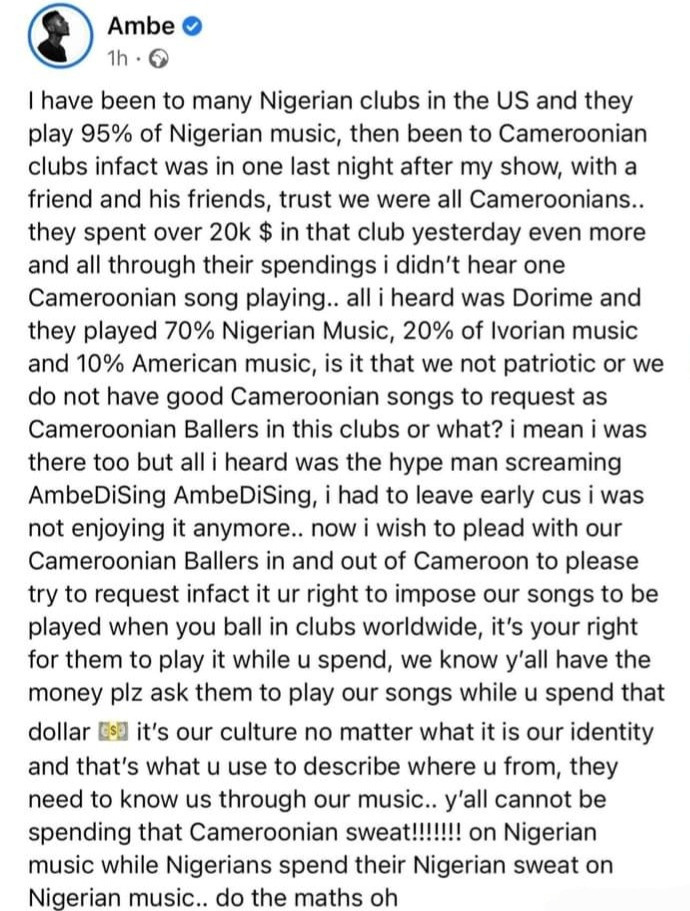 Read Also: Ice Cube denies 'Inspiring' Kanye West's Anti-Semitism thoughts