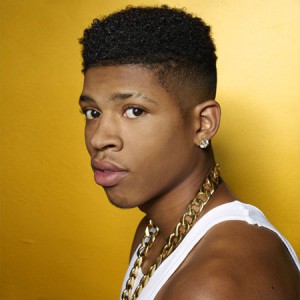 The most intense moment in Bryshere Yazz Gray's young acting career was when he took aim at the man who made him — and actually cocked the trigger. "It's when I pull the gun out on Lucious," says Gray, shaking his head as he recalls the scene in Empire, a snippet of which is teased in the trailer for the second part of Season 2. Gray's Hakeem Lyon points a piece at his father, played by Terrence Howard. While it was a highly charged moment on screen, the drama lasted far longer for the 22-year-old Gray. "It's 2 o'clock in the morning. Closed set under a bridge. Terrence is at his mark. But I'm crying because I'm getting in character — just sitting down on the edge of the lake, crying and getting deep into character," says Gray, who adopted a form of method acting Howard taught him. "It's not like they just go 'action' and 'cut' — you have to stay in it. If you lose it, they'll see." So the tears kept coming, and so did the tension. According to Gray, it's just a taste of what fans can expect when the show returns to Fox on March 30.
"It's like The Godfather now," Gray says of the Lucious-Hakeem dynamic. "Disobedient son that wants to be the heir, but the son wants to be like him so much." It's clear that Gray, who plays Hakeem, the youngest, most cocksure son in the Lyon clan, with both arrogance and affection, is excited by the next phase of the hit series — in part because he's written and performs on four singles in the coming half season. "It's 12 hours on the set, then straight to the studio with Timbaland," he says, clapping his hands and rubbing them together in eager anticipation. "We're trying to get those cuts popping. Rock with us, y'all! Rock with us!"
It's a few hours before the Grammys, and this Beverly Hills hotel — not one of the famed spots — is playing host to working musicians, the kind who tote their own guitar cases to waiting Ubers. And that's just fine with Gray, who has just come from a recording session in the studio he recently had built in his Calabasas condo. But as we settle in by the diminutive rooftop pool, which can scarcely accommodate a lone swimmer, it's clear this MC turned actor turned ascendant star is going to be too big for this venue very soon — if he isn't already.
On a break from shooting the last episodes of Season 2 in Chicago, Gray is in town to attend the Grammy Awards later tonight. He'll be going with Timbaland — the series' musical mastermind and the producer of the album for which they are nominated in the Best Compilation Soundtrack category, Empire: Original Soundtrack From Season 1. (They ultimately lost to Glen Campbell for I'll Be Me, but that didn't stop Gray from hitting the afterparty circuit.) Gray performed on five tracks on the album, which debuted at No. 1 on the Billboard 200 charts. The soundtrack's success is just another conquest in Empire's march toward cultural domination. The hip-hop soap opera — referred to by many, including co-creator Lee Daniels, as "black Dynasty" — which centers around rapper and record-label impresario Lucious Lyon and his brood, stormed into our collective consciousness in January 2015, and has been a ratings juggernaut ever since. For Gray, this speed of this success — if not its arrival — has been surprising.
"A kid with no acting experience? My first part?" says the Philadelphia native. "Being on the biggest TV show in the world. Touring the world. Going to Japan. Toyko … No, I didn't see it happening this fast."
Gray, a former street performer, was discovered in 2013 by talent scout and manager Charlie Mack, Will Smith's good friend, at a small club in Philadelphia. That September, Gray thought he had made it big when he landed a spot in Jay-Z's Made in America festival, also in Philadelphia. He was the opening act for the opening act's opening act. The audience's reaction to him was much like the one he got when Empire first aired. "They were like, 'Who is that kid? He's dope, but who is he?'" Gray recalls. "I had super-confidence before I had any value to me."
About eight months later, he did his first audition for Hakeem via his iPhone. "They really went crazy for that audition, and that's kind of what won them over," he says of the show's producers. "They wanted to fly me out to L.A. I'd never been there before that. I was like, yeah, cool, let's go." But Gray almost froze. When he walked into the audition room, he found himself in the company of the co-creators Daniels and Danny Strong, as well as the show's veteran stars, Howard and Taraji P. Henson (who plays the Lyon clan's matriarch, Cookie). "I was nervous," he says. "But they were just welcoming. I thought they were going to be like, 'Get him the hell up outta here.'"
In person, Gray projects a happy-to-be-here demeanor, with healthy doses of humility and self-deprecation. Yet, like Hakeem, Yazz the Greatest (Gray's stage name) is brimming with brio: He flexes, thumps his chest as he talks, and walks with the kind of swagger that makes it clear this former high school football star expects to score. A lot. When he looks at Hakeem, Gray sees a funhouse mirror reflection of himself, one that exaggerates the ego and sense of entitlement. "He is me — on steroids — with a different name. It isn't scripted what I do," Gray says of his alter ego. "I love that little kid, but sometimes he is a baby. He's spoiled — he grew up very fortunate. I grew up less fortunate, in Philadelphia, my mom working two jobs, me sleeping on the floor."
Gray's father is not in his life, which perhaps created an opening for a wild Internet rumor. "Jay-Z? Never met him, but I heard he's my father!" says Gray, laughing at the reports that he was really the son of a hip-hop artist turned CEO. "I asked my mom about it and she said, 'I don't know. Maybe…' I said, 'Mom, stop playing with me!'"
Gray jokes about the prospect of joining the Carter-Knowles clan, acknowledging its potential perks. "I'd love it," he says with a laugh. "I'd have Blue Ivy as my half-sister. We'd have power parents. That'd be the real Empire."
Of course, not every false report is so amusing — Gray is still bothered by news reports this past October that he'd been gunned down in Philadelphia. "I don't know, man. That was like the devil sent for me or something," he says. "I woke up one morning and my grandma was, like, just crying. She really thought that I got shot and killed in my hometown. I was just so hurt by the person who put it out there."
Coming of age under intense media scrutiny is never easy, but Gray says his experience on the show has accelerated his maturation process. "It grew me up," he says. "It's made me recognize certain abilities and characteristics that I had. And it helped me flourish in them. So I'm just now starting being me to the fullest, me with confidence."
Gray seems to know the biggest challenge may be staying grounded. He has a strong group of advisers he turns to regularly, including Will Smith. "That's a good mentor to have," he says, noting Smith's pivot from rapping to acting. "The same age I walked in, he walked in."
And even his onscreen mom keeps an eye on him. "Taraji's a box of nails. Loud. You hear her before she even walks in the room," Gray says. "She may see me out at a party and say, 'Yazz, chill out,' because sometimes I turn it up too much sometimes. But I do it very responsibly, because I don't want to end up on TMZ."
The other cast members act familial too. Gray says Howard is both a father figure and like a big brother to him. And he and Trai Byers (who plays Andre Lyons) and Jussie Smollett (who plays Jamal) pass the time between takes playfully slap-boxing and teasing each other like actual siblings. Gray, however, gets a little extra razzing. "They punk me all the time because I'm the little one, the young one," he says. "It's like I'll come back to work from being here, and they'll be like, 'Oooh, Yazz is kissing all the groupies,' and I'll be like, 'No, no — I'm chilling.'"
For the record, Gray explains that he spent all of Valentine's Day with his mother, not "a girl from the road or anything." And even Hakeem, whose onscreen dalliances have ranged from Camilla (played by Naomi Campbell) to Tiana (Serayah McNeill) to Lucious's ex-fiancée Anika (Grace Gealey) to Valentina (Becky G), will be settling down somewhat. "I'm excited for you to see me work with Laura," he says, referring to the singer played by Jamila Velazquez. "The relationship Hakeem has with her is gonna continue, and it's got great, great chemistry. It's so good. It's making me more complex."
Not coincidentally, things are heating up for Gray away from Empire. Once Season 2 wraps, he will be shooting his first feature film (he can't divulge the name) and finishing up his much-anticipated solo album. Of course, he's not the only onscreen Lyon who was signed to a recording contract. Smollett has a deal with Columbia, but Gray insists this isn't a case of life imitating art — there is no rivalry between the screen siblings. "Jussie is a singer, I'm an MC — so there's no competition," Gray says. "He's supertalented. He thinks I'm talented. We're brothers. We really are." Gray leans forward, as if looking right at the camera, and taps his chest. "I'm going platinum, Jus! I'm going platinum," he says, then laughs as he echoes Hakeem once more: "But you know, I do need a hook…"