Popular media mogul, Mo Abudu of EbonyLife Place is coming up with an amazing event, Bold Conversations by Veuve Clicquot.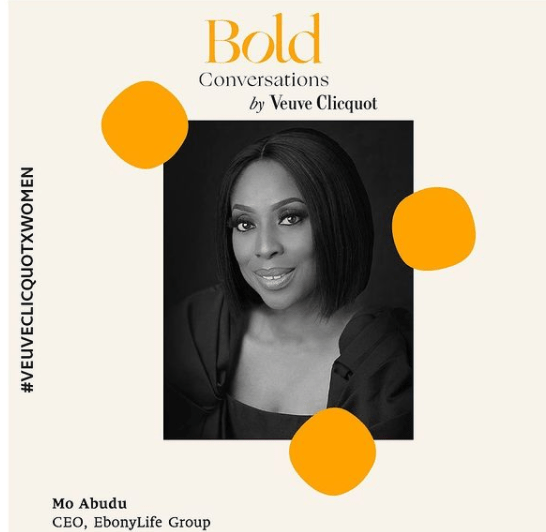 Taking to her Instagram page, Mo Abudu wrote, "It's really an honour to have this historic event – Bold Conversations by Veuve Clicquot at EbonyLife Place. From our beautiful reception, to The Victoria Hall, and down to our poolside terrace. Absolutely beautiful "
In another post, she wrote,
Veuve Clicquot's story is one of boldness, creativity, and entrepreneurial spirit. In 1805, at just 27, Madame Clicquot took the reins of Veuve Clicquot after the death of her husband, at a time when women could neither work, vote, nor hold a bank account.
Revered as one of the first businesswomen of modern times, her entrepreneurial spirit led to key innovations that revolutionized the field; the invention of the first vintage champagne in 1810, the creation of the first blended Rosé in 1818, and the riddling table in 1816.
Indeed, Madame Clicquot's focus on new opportunities and willingness to take risks as she expanded her business to all four corners of the globe set the stage for the brand's support of women entrepreneurship to this day.
I am pleased to be part of the panelists of the first Bold conversations by Veuve Clicquot in Nigeria, to share my experience as an entrepreneur and discuss the state of Female Entrepreneurship in Nigeria.
It's an honor and a privilege that the Bold Conversations is taking place at EbonyLife Place on the 23rd of September 2021.
Sign up through the link below to discover more about Bold Conversations by Veuve Clicquot.
https://www.veuveclicquot.com/en-int/bold-conversations-nigeria