Bola Tinubu, the APC's presidential candidate, sent a loving birthday message to his wife, Senator Oluremi Tinubu, on her 62nd birthday.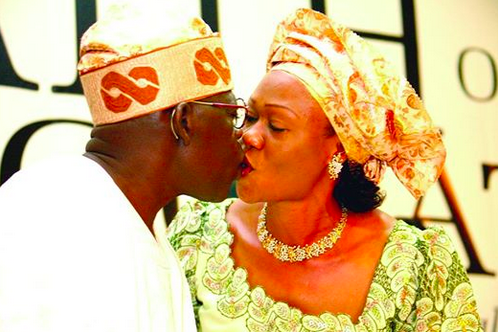 The APC leader stated in a post on Twitter on Wednesday that the demands of politics could not stifle the feelings he felt on her birthdays.
Tinubu wrote, "To My Dearest Remi at 62: Birthdays are for celebration, especially so for someone who has been the love of my life.
"At this time of the year, nothing else matters. Not even the demands of politics can suppress the rush of emotions I feel every time it's your birthday."
Additionally, Tinubu commended her for taking care of the home when he had to be abroad, saying that she was by his side like the "Rock of Gibraltar."
Tinubu said, "Dearest Oluremi, my Senator! I love and appreciate you each passing day. Recalling how we started fills me with gratitude: how you have stood by me, unconditionally, like the Rock of Gibraltar.
"Even when I had to be away owing to exigencies, you efficiently managed the home front, nurturing the children with love and affection. Your love has always kept me going. Thank you for being a good mother. Our children and I thank you for your immense love.
"Your kindness to others and to humanity is legendary. My prayer for you on this day is that God Almighty continues to prosper and shower you with His infinite mercies and blessings. May He grant you many more years in good health.
"Happy birthday, Senator Oluremi Tinubu. Happy 62nd birthday to my wife, my love."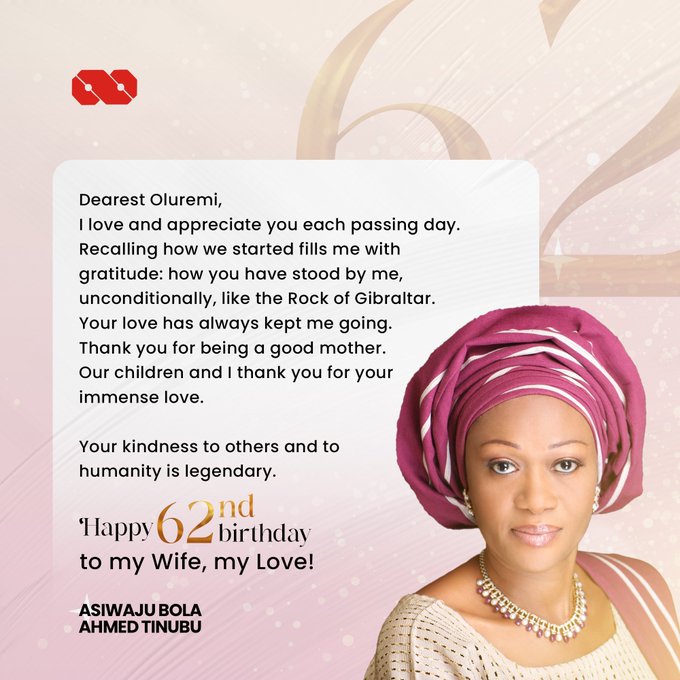 Other prominent figures, and celebrities also took to the social media to shower the Senator with goodwill messages.
One of those celebrities is Nollywood actress Eniola Badmus, who had celebrated the celebrant, saying that having the Mrs Tinubu as her mum has produced good fortune.
In a Wednesday Instagram post, the 39-year-old showered praise on the spouse of former Lagos State Governor Bola Tinubu.
The actress prayed for grace and peace and thanked Remi Tinubu for fostering and directing her.
She wrote: "Having someone like you as my mother is one of the rarest of good fortune, Even at 62 your level of energy is so great! Happy birthday to the most wonderful woman known to me!
"Thank you for always guiding and nurturing me. wish you a very happy 62ND birthday! hope your coming days are filled with endless joy, love, and serenity. Our dear heavenly Father, thank You for Your faithfulness, love and mercy over the life of my mummy,Thank You for strength and good health. As she turns 62 years today, pray for fresh grace and peace. I pray You fill her life with reasons to be always grateful.