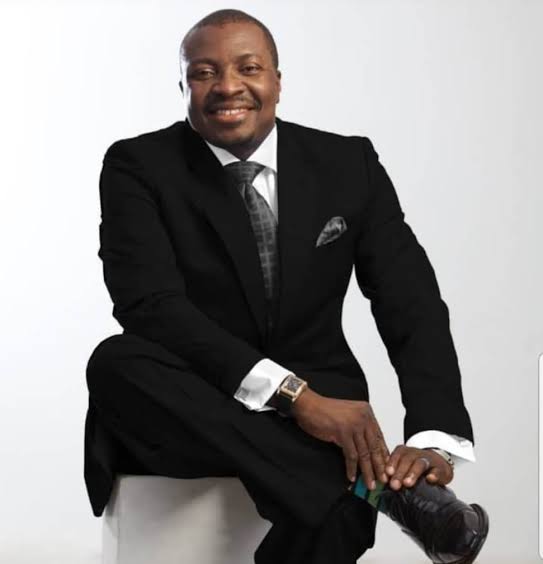 With his stage name of Ali Baba, he has become one of Nigeria's most well-known stand-up comedians, hosts, and masters of ceremonies. He is also an actor and television personality. He's been dubbed Nigeria's king of comedy and is currently the industry's founding father.
READ ALSO:Alibaba Advices Gov. Babajide Sanwo-Olu on Solving Lagos Traffic
He was born on June 24th, 1965, in Warri, Delta State, Nigeria. He's 53 years old right now. His parents were members of the royal family of Agbarha Otor, who lived in the Ughelli North Local Government Area of Delta State, in the south-southwest corner of the country, in Warri, Delta State, Nigeria. He's the only guy in a large, predominantly female household.
A retired military commander and soldier from Lagos State in Nigeria's southwest, his father served in the Nigerian army for many years. Ali Baba went to Ojo Elementary School in Lagos State, Nigeria, where he completed his primary education and earned his First School Leaving Certificate. After finishing primary school, Ali Baba attended Lagos State Command Secondary School in Lagos, Nigeria, where he earned his West African Senior School Certificate.
Ali Baba attended Ambrose Ali University Ekpoma in Edo State, Nigeria, after completing his school education and earning a Bachelor's Degree in Religious Studies and Philosophy there in 1990. After graduating from Ambrose Ali University Ekpoma in 1990, Ali Baba moved to Lagos, Nigeria, where he hustled to make ends meet as a street hustler.
READ ALSO;Oniru of Iru Land Clocks 50; Here are 10 Things You Didn't Know About Him
While in Lagos, he decided to enhance his comedic skills after realizing in his third year of university that he had a natural gift for humor and was a naturally amusing person. However, he had intended to return to his hometown of Ekpoma in Edo State, Nigeria, to complete his Master's Degree in Law. Still, he was unable to do so after learning that he could make more money on stage by making people laugh than he could by defending them in court.
Ali Baba began his professional career by appearing at business events, television, and radio shows in cameo roles. He worked as Dapo Adelegan's executive assistant for a short time in 1991 before quitting to pursue a stand-up comedy career.
After that, he resolved to do everything in his power to better himself, including honing his comedic skills and making stand-up more professional.
Because of his courage, perseverance, and willingness to make sacrifices, Ali Baba has made a name for himself as a corporate and non-corporate event comic. Moreover, in less than four years, he had established himself as Nigeria's go-to Master of Ceremonies for several occasions. He's currently Nigeria's highest-paid comedian.
Alibaba Hicuppuray 3rd is the name of the firm he founded in 1993 to train and showcase the next generation of Nigerian comedians. He once said in an interview that being funny is a full-time job.
Many young Nigerian comedians have been nurtured, mentored, and presented by Ali Baba, who has ensured that standards are upheld, and professionalism is fostered. Known as Nigeria's "King of Comedy," Ali Baba has performed professionally for the past three decades and has won numerous honors domestically and internationally.
In 2001, he was honored with the Laughter Awards' Best Outstanding Performance Award for his work at Abuja's Baziks Theatre. The Laughter Incorporated Awards recognize outstanding contributions to Nigeria's comedy business, honored him in 2002. He was awarded the Delta State University's Achievers Merit Award in 2003. On the Pendulum Awards at Lagos State University, he won the Icon of Comedy award in 2004. The National Association of Physics Students hosted the event.
Biography and financial data of Bovi are available online.
Other honors he's received include the Comedy for Change Award, the Eric's Entertainment Award, the 1st Nigerian Entertainment Award, the National Comedy Award, the City People Entertainment Award, the Diamond Award for Comedy, and many more.
At the Johnnie Walker Striding Man Society in 2009, Ali Baba was recognized for his career accomplishment and his efforts to inspire and motivate others. Ali Baba became the first Nigerian comedian to ring the Nigerian Stock Exchange's Year-End Closing Bell in 2012 when he was granted the honor. He's also a Federal Road Safety Corps Special Marshal (FRSC).
Ali Baba spoke on CNN's African Voices in March 2015, when he discussed his plans to turn the Nigerian comedy profession into a thriving company. In April of this year, Ali Baba was awarded Rotary International's Paul Harris Fellowship to recognize his contributions to Nigerian comedy.
Ali Baba is an actor in addition to being a comedian. He has been in several Nigerian films, including My Guy, The Last 3 Digits, Head Gone, The Wedding Party, and Alakada, to name a few. Ali Baba is happily married to Mary-Bassey Udoh, with whom he has five gorgeous children as of right now.