Elon Musk, the world's richest man and Tesla Inc CEO, is "thinking" quitting his jobs and becoming an influencer.
On Thursday, Elon Musk tweeted about it.
"Thinking of quitting my jobs and becoming an influencer full-time wdyt [what do you think]," Musk said in the tweet, without elaborating.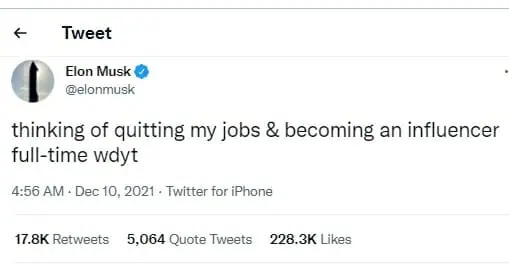 It was unclear whether Musk was serious about leaving his positions.
Musk, who is also the creator and CEO of rocket business SpaceX, as well as the founder and CEO of brain-chip startup Neuralink and infrastructure firm The Boring Company, stated during a conference call in January that he intends to be Tesla's CEO for "several years."
"It would be nice to have a bit more free time on my hands as opposed to just working day and night, from when I wake up to when I go to sleep 7 days a week. Pretty intense," he had said.
Elon Musk has sold nearly $12 billion worth of shares over the past month since he polled Twitter users about offloading 10% of his stake in the electric-car maker.
According to US securities filings, the billionaire sold another 934,091 shares for $963 million earlier this week to pay taxes on the exercise of stock options to acquire 2.17 million shares in Tesla.
Since November 8, he has sold a total of 11.03 million shares and gained 12.87 million shares via executing options.
Musk indicated on November 6 that if Twitter users approved, he would sell 10% of his stock.
As of June 30, he owned over 244 million shares through his trust and stock options, raising his position in Tesla to almost 23 percent. It consisted of 170 million shares owned by his trust.
Following the latest transactions yesterday, Musk still has an option to buy about 10 million more shares at $6.24 each, which expires in August next year.