Bill Gates reveals that the Samsung Galaxy Z Fold 3 Android foldable smartphone is his daily driver, despite the fact that Microsoft has its own equivalent, the Surface Duo.
It turns out that the founder of Microsoft, which had its mobile operating system called Windows Phone for a period, is now using an Android phone.
Despite the fact that Microsoft now offers an Android-powered smartphone in the form of the Surface Duo, its founder appears to be leaning toward its more popular competition.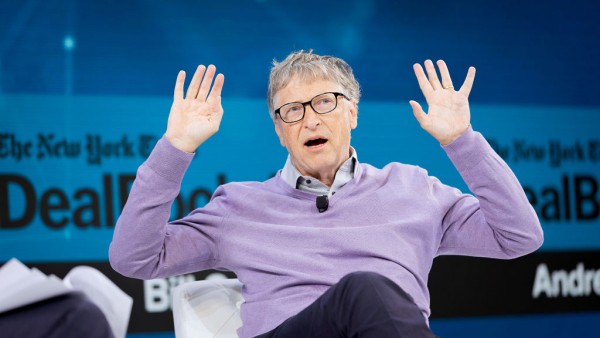 Bill Gates Uses a Samsung Galaxy Foldable?
As per a news story by 9to5Google, the philanthropist Gates recently had an AMA on Reddit, wherein he honestly shared the smartphone that he uses daily.
It exposed that the ultra-rich founder of Microsoft is not using a Nokia Lumia, which used to be the smartphone that his tech giant powers.
But then again, iPhones and Android phones dramatically dominated the market. Thus, killing Windows Phone altogether.
The obvious assumption for some is that the Microsoft founder would be using the Surface Duo as his primary mobile device.
However, Gates surprised us when he admitted on his Reddit AMA that he uses the latest Samsung foldable out there.
The tech entrepreneur shared the smartphone that he uses when one Reddit user who goes by the name "bwagnon713" asked an interesting question to Gates.
"What kind of phone do you have?" the Reddit user queried, adding a thinking emoji to his question.
Bill Gates' Android Foldable Phone
The philanthropist gamely answered the question, which comes as surprising to most. The Microsoft founder, who uses the Reddit username "thisisbillgates" said he uses a Samsung Galaxy foldable.
Gates did not mention the Samsung branding in his response. Instead, the tech founder said that he has an "Android Galaxy Z Fold 3."
He further added he explores other smartphones, according to a recent report by Android Police. But he did not mention which of the latest offerings he had tried.
However, 9to5Google noted that Gates has been using Android smartphones since 2017. He even revealed that he prefers to use phones running the mobile OS of Google than Apple's iPhones.
Bill Gates Phone: Why Not Surface Duo?
Although Gates surely used the Microsoft Surface Duo for a time, he explains why he prefers the Samsung flagship foldable.
The Microsoft founder says that the Galaxy Z Fold 3, which sports a massive OLED display, lets him "get by with a great portable PC and the phone and nothing else."
Source – Techtimes