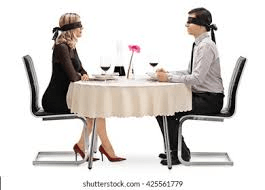 It will amaze you to know that going on a blind date actually helps you build your confidence level, wondering why? Then keep reading I will tell you.
Read Also: 16 Interesting FactsAbout Halle Berry
When you go on a blind date , you actually don't know what to expect that's why its called "Blind date" . People hope for the best while some get the worst.
Its just like meeting a stranger and hooking up with the person not knowing if such a person is a serial killer or not.
Read Also: Nigerian Singer, Mohbad Locked Up In Cyprus Prison
Dressing
You don't have to be too conscious what to wear, because you don't really know the person and have zero feeling for him.
Talk and Walk
That way you can easily walk out if the conversation is too boring to endure.
Social Status
Going on a blind date also helps addressing your social status , how? Because you get to meet someone new, talk about things that you both like without getting scared that you are trying to impress.