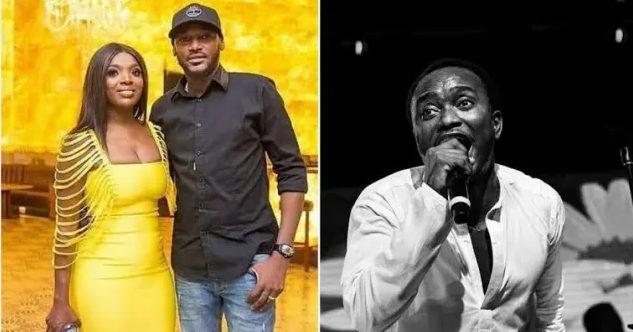 Nigerian singer, Olawale Ashimi, better known as Brymo, has come out to allege that he was accused by colleague, Innocent Idibia, better known as 2Face or 2Baba, of sleeping with his wife, Annie Idibia.
Brymo detailed his feud with 2face in a lengthy Twitter thread on Monday night, stating that the latter sent thugs to bash him up.
Read below:
"In the very recent past, a man falsely accused me of sleeping with his wife.. and I've waited in angst, and the words were never taken back still, efforts were consistently made to prove I did it still.. and my soul has known no lasting peace ever since…
"Mr Innocent Idibia had, at an AFRIMA press conference in 2015/16 or thereabout, walked into the room, sat beside me and elbowed me in a supposed greeting, as much as 4-5 times, repeatedly, while looking away, saying 'BrymO, BrymO…' and we exchanged no other words that day!"
"Now, in 2012 I had the opportunity to tour the US with his company… a most appreciated opportunity, as he was by far my most respected act around… he was my first reference at everything, and boy! Did I look up to him!!!"
"Fast forward to a few years ago, he approached for a feature.. specifically asking me to get on a track with him.. I was initially reluctant to consider it, because I still didn't know why he did what he did at the press conference years before.. well, I got persuaded to meet!"
"I had, the week before or so shared the company of his wife, a female friend of theirs and my partner's, and my partner herself.. and within minutes she, Mrs Idibia had asked what the future held for my career.. a question I considered a sleek attack. My answer was my future!!
"I proceeded to responded that I'll be Africa's finest act alive, and that I'll reign for a decade .. and I knew I had shot back nicely!"
Glam Squad Magazine recalls that this is not the first time Annie Idibia will be accused of cheating on her man, 2face.
Blogger, Gist Lovers once claimed that Annie Idibia has sugar daddies, one of them is a wealthy man named Ned.
Gist lover wrote,
"Well Annie,don't push your luck,Tuface get him shit,but you do the most ,two weeks ago when I posted Una pictures,I got plenty comment saying make I no talk,but I think now is the right time to talk,MEN suffers domestic violence too💔💔We know Tuface get him own for body,you know of his health status yet you kept pushing him,you sef get sugar daddies now,Ned and Co😏😏😏Annie Stop it now",