Bimbo Ademoye, an actress who recently starred in Kunle Afolayan's new movie Anikulapo, has responded to criticism surrounding the role she played.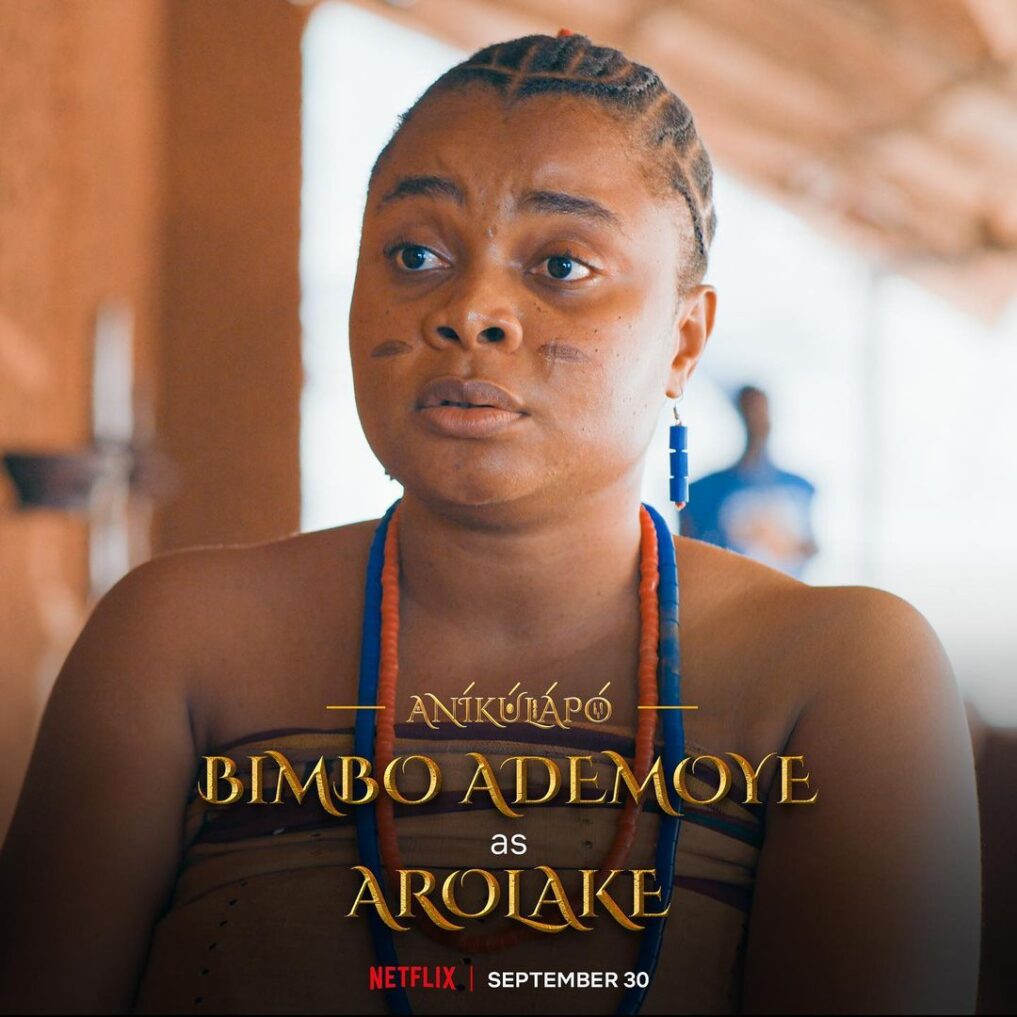 The protagonist of Anikulapo is Saro, a travelling cloth weaver (Kunle Remi), who was murdered after having an affair with the Alaafin's youngest wife, Arolake (Bimbo).
He is brought back to life by a fabled bird, who also leaves behind a gourd that has the ability to resurrect the dead.
Following the actress's performance in the film, which many have praised for being "challenging and well interpreted," the topic became a hot one on social media.
Others, on the other hand, thought Arolake deserved better and lacked intelligence because she allowed herself to be taken advantage of rather than making use of the magical powder she gave to Saro after he "betrayed" her.
A curious Bimbo asked her Instagram followers to weigh in on which character was the real victim on Monday, sparking a lighthearted conversation between the two.
She wrote: "Guys quick one, who is the victim? Saro or Arolake? Because I'm seeing some tweets saying fear women. Fear women, fear women how? So over to you guys, if you feel Arolake is the bad guy please comment 'fear women'. If you think it's Saro please comment 'men are scum.'"
As was to be expected, a number of celebrities and followers flocked to the post's comment section to express their opinions. Some backed Arolake, while others rallied to Saro's cause.
Media personality Toke Makinwa wrote: "You dey trust man? Adam? Adam?"
Responding to her statement, Kunle Remi wrote: "Adam no trust Eve? No be there wahala start?"
"Men are scum, Yoruba demon oshi," actor Mofe Duncan added.
Comedian Mr Macaroni wrote: "Arolake wise, Saro overwise."
Actress Idia Asien wrote: "Fear men but you shouldn't have poured the powder away just keep it for yourself. Don't worry we are looking for Saro, they didn't beat him well in the film."
A follower named Fridayy_usual wrote: "Saro is the bad egg here, he's ungrateful. And before anyone comes to say what about arolake, think she explained to saro that she doesn't find happiness with the king and to think the king married her at an early age added to it.
"So she definitely wanted to start a new happy life with saro, but saro was too promiscuous and wants to enjoy all opportunities that comes his way. Even when arolake accepted him marrying two wives he still went ahead for the kings daughter, habaaaaaa!!! that was extreme. He forgot soo fast arolake made him and so therefore he got destroyed by her too."