Following the recent unfortunate death of Dowen college student, Sylvester Oromoni, a lot of celebrities has used their platform to react to it screaming for justice for the 12-year-old.
Amongst them is Nollywood actress, Uche Ebere who took to her Instagram to chide parents who send their young ones to boarding schools.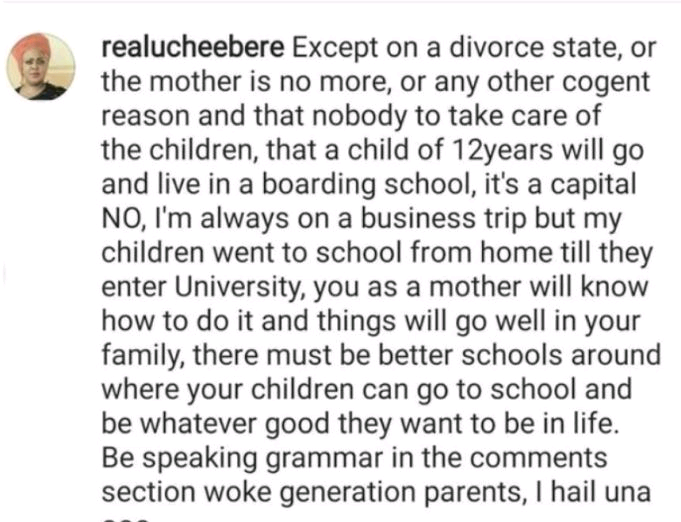 Read Also: Celebrity Hip-hop  Photographer, Chi Modu Dies At 54
According to her, a 12-year-old has no business attending a boarding school except the parents are divorced, the mother is dead or there's no one to take care of them.
However, the comment did not sit well with Actor, Walter Anga, as he disagreed with Uche, stating that boarding schools help the child grow stronger and understand a whole lot.
Read Also: Justice For Sylvester Oromoni's Death: List Of Celebrities That Used Their Platform To Support The Movement
He noted that the underlying problem is the upbringing of a child and the environment.
It read;
"All of una dey "MENT" for say a 12yr or less is not supposed to be in boarding school bla bla bla…It has nothing to do with the child's age, rather the problem 1,is upbringing 2,environment (school) Most of us passed through the system and also received bullying then in school but now we are forming what I don't know. I have refused to comment one this matter cos I have 3 boys and a girl 17+ 11+ 8+ and 2+ weda dem like am or not dem go pass through the system. Boarding schools actually help the kids to grow stronger and understand a whole lot. So make these our nollywood peoplerest I beg", he wrote.
See post below;