Alexis Mabille designs at the Haute Couture Spring Summer 2023 show at the Paris Fashion Week were indeed breathtaking as they teased their audience with amazing designs which will leave your jaws dropping.
The choice of colors where bold and beautiful for all skin color and body size on like some other fashion house who design their clothes to a particular body size; mostly size 12.
Read Also: Lookbook: Fendi FW 2023 Menswear Collection
Alexis Mabille, a master of color, went all out this season, creating a rainbow-like explosion on the runway with his rich satin and crêpe designs. His message was one of joy, freedom, inclusivity, and enjoyment. He developed the flou forms he has been experimenting with more recently by combining billows of vibrantly colored fabric.
A sleek mustard crêpe sheath with a triple belt and a V-shaped bustier dress with front draping that added curves. More provocative gowns featured open sides that exposed a lot of skin, while lapels were stretched to create theatrical hoods.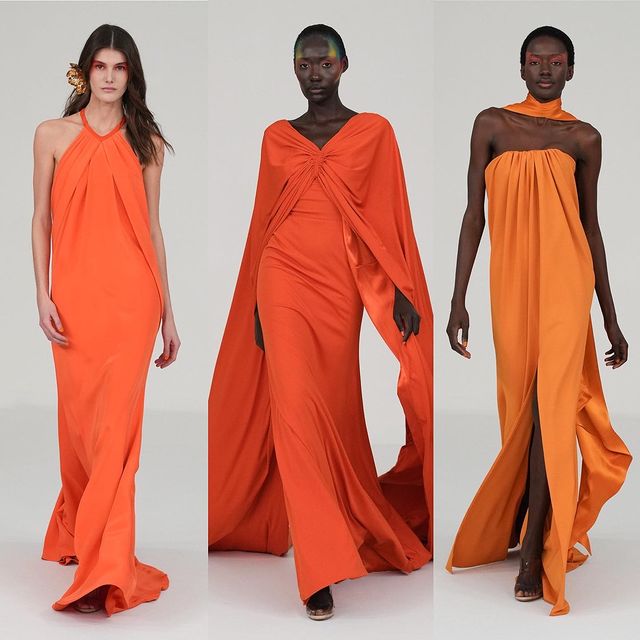 One of the first looks included a gold knit fabric that shimmered on the runway and was embroidered with two kissing faces that were reminiscent of Erté's Art Deco designs. Additional embellished outfits were a red crop top with a contemporary vibe worn with wide-hip sarouel pants draped in red crêpe, or a black dress with red accents.
Read Also: Prada Fall 2023 Menswear Collection
See full collection below: