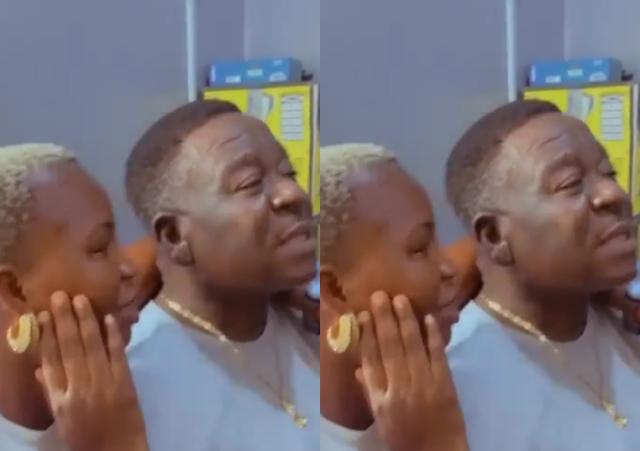 Stella Maris, the wife of legendary Nigerian comedian and actor Mr. Ibu, has retracted her comments towards Jasmine Okafor, their daughter. It will be recalled that the thespian's wife called out Jasmine, whom she claimed was not their biological daughter.
Stella said Jasmine was planning to take over her husband's properties because he was suffering from dementia. She would further accuse the social media influencer of planning to sell her husband's house in Abuja.
Reacting to the allegations, Ibu insisted that Jasmine is a lovely daughter and accused his wife of abandoning him while he was sick. Ibu noted that Jasmine was responsible for his upkeep while he was in the hospital and alleged that his wife was the one planning to sell his house in Abuja.
ALSO READ: "MY WIFE ABANDONED ME IN THE HOSPITAL AND FIGHTS ME WHEN I DON'T GIVE HER MONEY"- MR IBU TELLS HIS SIDE OF THE STORY
Ibu said:
"My wife and I have been having so much misunderstanding. We had a big issue and we went to the police station to resolve things. We are currently not living together because of her behavior.''
High-profile media personality Daddy Freeze would intervene in the matter and help settle the misunderstanding between the couple and their daughter. Following the settlement, Maris described Jasmine as her daughter and apologized for the false allegations, which had fans of the legendary Nollywood actor questioning the ability of her husband to keep a home.
ALSO READ: VIDEO: MR IBU AND WIFE, STELLA OKAFOR RECONCILE AT THE POLICE STATION AFTER SOCIAL MEDIA MARITAL DRAMA
Daddy Freeze revealed during a live Instagram session that the family reconciled at the police station and is now living together again. In a bid to ensure the Nollywood actor and his wife do not have future altercations, Jasmine has been made the manager of his social media platforms because Stella does not know her way around them. However, Jasmine was instructed to always seek permission from the actor's wife, while Ibu was told to stop living in Jasmine's apartment.
Source
Gist Lover
Featured Image Credit: Gist Lover