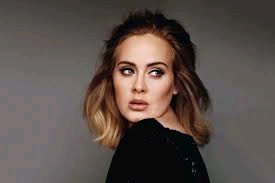 On November 17, 2021, English singer and songwriter, Adele who released her newest Album '30' met with Zane Lowe on Apple Music 1 to talk about her highly anticipated fourth studio album.
Read Also: Lookbook: Dior Spring Summer 2022 Ready To Wear Collection
The superstar told Apple Music about the emotional journey that lead to the album's release, losing and regaining her connection with her own music and lots more.
Read Also: Stylish Chiffon Outfit Design For Ladies
Adele Speaks On Wanting To Release '30' Earlier
I wanted it to come out last year, obviously. And, when I drunkedly announced it at my best friend's wedding on the stage. Expect my album in September, to a room full of people I don't f***ing know. But, I wouldn't know I'd be announcing it to everyone that already pretty much knew anyway. Who the f**k did I think I was? It would've been done by then. I hadn't done the orchestras yet.
And, I hadn't finalized all of my BVs and stuff like that. But, it would have, had the world not shut down. And, it's such an integral piece to my life story over the last few years, that I wanted it to come out. Because, when it does come out, it's the final door closing on that chapter of my life. So, it feels like it's dragged out for me a little bit.
Read Also: How To Glow Up As A Lady
Adele Speaks On Losing and Regaining Her Connection With Her Own Music…
I don't think there's any expectation of sincerity left in music from artists. And, I believe that artists are sincere. And, I think to be an artist, like an actual artist, it comes from deep within us.
And, it's a necessity that we have to put it out. And, I don't just mean being an artist as a singer or a writer. It could be a painter. It could be a photographer. It could be a chef, an architect. Someone that's creating something. And, I just feel like it's just a transaction now. And, that's not why I got into music.
It's just not my vibe. But, I'm not in it long enough at a time for it to really take me off of music at all. If I was doing this every year, I mean, I'd just be a zombie I think. But, I definitely did lose my connection with my own music and with how it made me feel and stuff like that. But, it came back to me on this album because I needed it so badly.
The Album will be released on 19th November, 2021.