Venue was the famous Wheat Baker Hotel, Ikoyi, Lagos and the hall of the 'Strictly by Invite' event was filled with dignitaries and lovers of good fashion dressed in Sophisticated and Elegant Black –  the dress code for the night.
The floor was threw open by Lola Ogunfadebo, who trilled everyone with her collection which she described as 'cultural outfits made into everyday outfits using Asoke and lace'.
Next in line to showcase was Anthony, with his collection 'Classic Man'. Outfits he said can fit into any event perfectly. The models worked the runway to cheers from the crowd you couldn't get enough of their charisma.
Then it was the toast of the moment, Ade Bakare's ready to wear collection came on display before the special collection which he said was in memory of the late Remi Lagos was showcased. The collection designed in white and black silk were modeled by friends of Remi among whom were Bimbo Akintola, Mosun Ogunbanjo, Tayo Olarenwaju, Tutu, Debby, Funmi and a host of others.
The women were definitely feeling the runway and did Remi proud. The session, though very touching was fun to watch with the crowd cheering an clapping in excitement.
The 'on-point' event came to a close after a short piece by Ade Bakare, who spoke passionately of Remi and  acknowledged the support of a few personalities who assisted to keep her legacy alive. He gave out a few gift baskets to show his appreciation.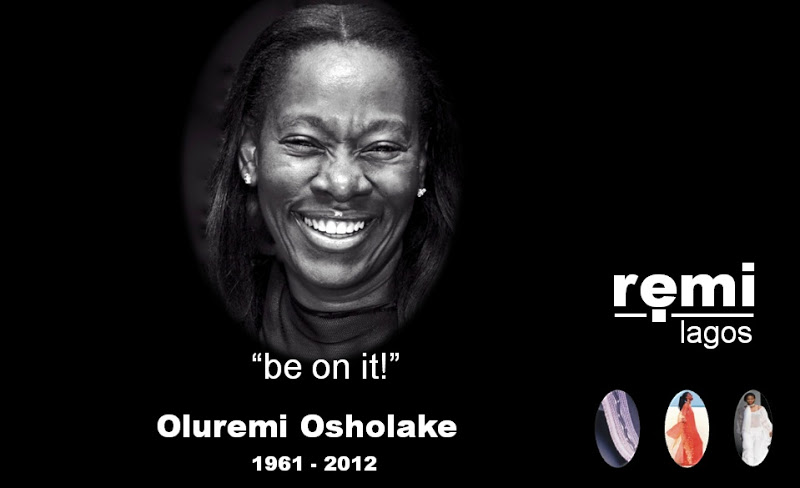 The night was for Remi Lagos and we loved it! may her gentle soul rest in perfect peace, amen.