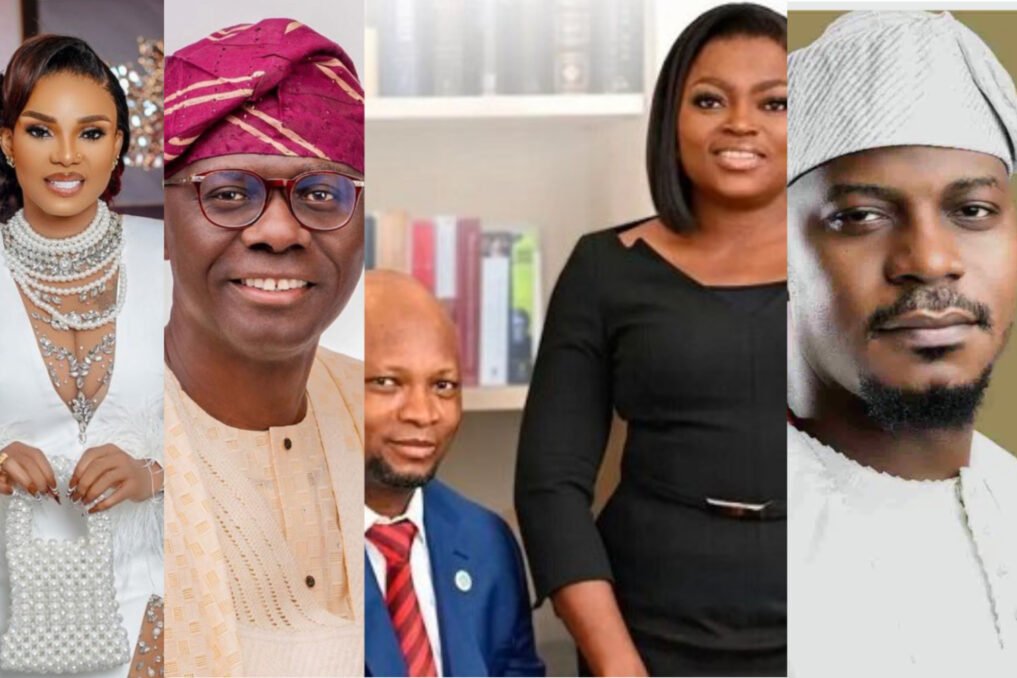 As the 2023 gubernatorial election draws nigh, Nollywood actress, Iyabo Ojo has revealed that she is finding it challenging to select a candidate to vote for among the governorship candidates in Lagos State.
Iyabo, 45, who was a staunch supporter of Labour Party's presidential candidate Peter Gregory Obi during the just concluded 2023 presidential election, shared her analysis of the three Lagos State governorship candidates on her Instagram page.
In her analysis of the Lagos State governorship candidates, Iyabo Ojo shared her thoughts on Babajide Sanwo-Olu, the incumbent governor and All Progressive Congress (APC) candidate. While acknowledging his achievements, Iyabo admitted that she has never been a fan of the APC. She expressed her disappointment with Sanwo-Olu's handling of the 2020 End SARS protest, which resulted in the loss of lives. Iyabo believes that Sanwo-Olu could have done better.
Regarding the People's Democratic Party (PDP), Iyabo said that if she were to disregard emotions and support a candidate solely on merit, she would back her colleague and friend Funke Akindele. However, Iyabo emphasized the importance of making a fair judgment based on a wider perspective.
Finally, Iyabo shared her thoughts on Gbadebo Rhodes-Vivour, the Labour Party's candidate. Although she observed his promising vision for leadership in Lagos, she expressed concerns about conflicting reports on his experience.
She wrote:
"This upcoming Lagos State gubernatorial elections…. hmmm. 🤔e go hard me small. My Take

"1. APC: Though this party has never been my prerogative, but give it to Mr Sanwoolu, I have no issues with his achievements and his government. What I find hazy and can't shake off is how the unfortunate endsars saga played out. I maintain he should have done better.

"2. PDP: If I were to be sentimental, I would take back my words & certainly pitch with my dear friend Funke, but i must see beyond emotions. so I am unable to make a fair judgment.

"3. LP: I have watched closely this young man's dream to take on the mantle of leadership of our dearly beloved state. Whilst he has a promising resume, one can not overlook the number of conflicting reports on his pedigree and experience…..🤔"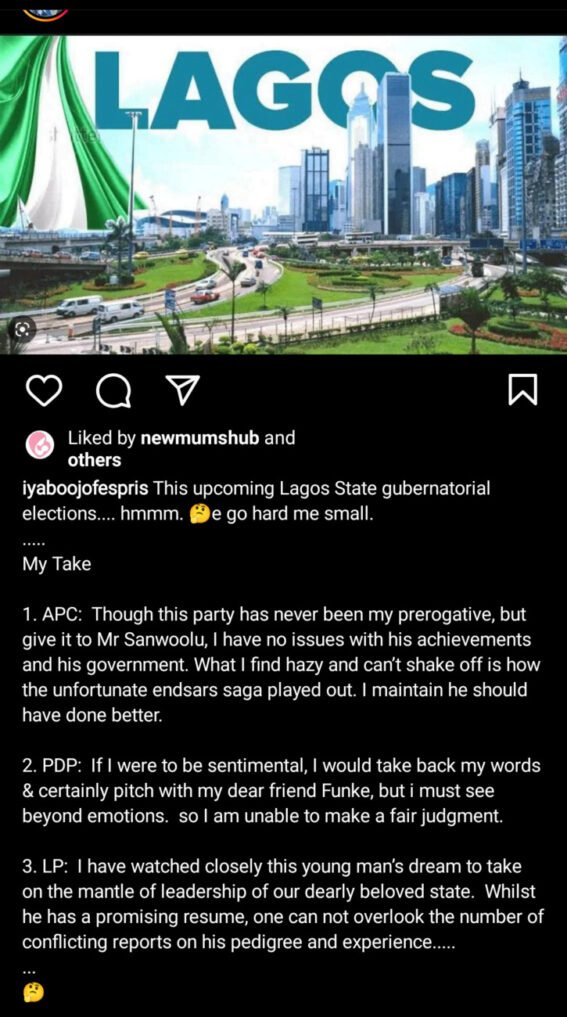 Read Also:'One good turn deserves another' – Cubana Chief Priest endorses Governor Sanwo-Olu's re-election Bid