Nollywood actor, Nosa Rex Okunzuwa, better known as Baba Rex and his wife, Deborah celebrate their daughter, Audrey as she clocks seven.
Nosa Rex took to his Instagram page to express his gratitude to God for blessing him with a beautiful daughter as he expressed pride in her.
Describing Audrey as a smart, beautiful, intelligent, loving, caring, understanding, brilliant, and respectful daughter, he affirmed his love for her and showered prayers on her.
He wrote:
"Happy birthday to my amazing daughter Audrey Eseosa. Big 7.

"Audrey, I am excited and proud to be your father. I love you so much baby and I thank God every day for giving me a smart, beautiful, intelligent, loving, caring, understanding, brilliant, and respectful daughter.

"I pray that you will continue to grow in wisdom and knowledge of God.

"You will shine forever. You will be the head and not the tail. You will be a blessing to the entire family. You will be a blessing to your generation. You will continue to make us proud. No evil will come near you. God will grant you all your heart desires. Love you, melanin queen".
Read Also: INTERVIEW: Nollywood Actor, Nosa Rex Speaks About His Marital Journal And Advice To Younger Folks
His wife on her path rained prayers on her first fruit. She wrote,
"To the most beautiful girl, I know… My first child Audrey. 7 years ago, you came into our lives and changed it for good, you have been the most perfect gift from God… You have filled us with beautiful memories from the day you were born…
I say it all the time that you are so caring, beautiful, and intelligent and I'm grateful to God a lot of times I remind myself that you are only 7 because of how you hold conversations… My best friend, my 50 questions in a minute, my chocolate version, my pocket lawyer, my atinga, my kokobounty!

"I pray for you to be always happy in your life, I ask that the heavens protect you in all your ways. May the joy you bring to our hearts never end, I pray that God keeps enriching your heart… I hand you over to the safe hands of God to direct us on how to bring you up in ways that will glorify him… Happy birthday my Audrey…Mummy loves you Big".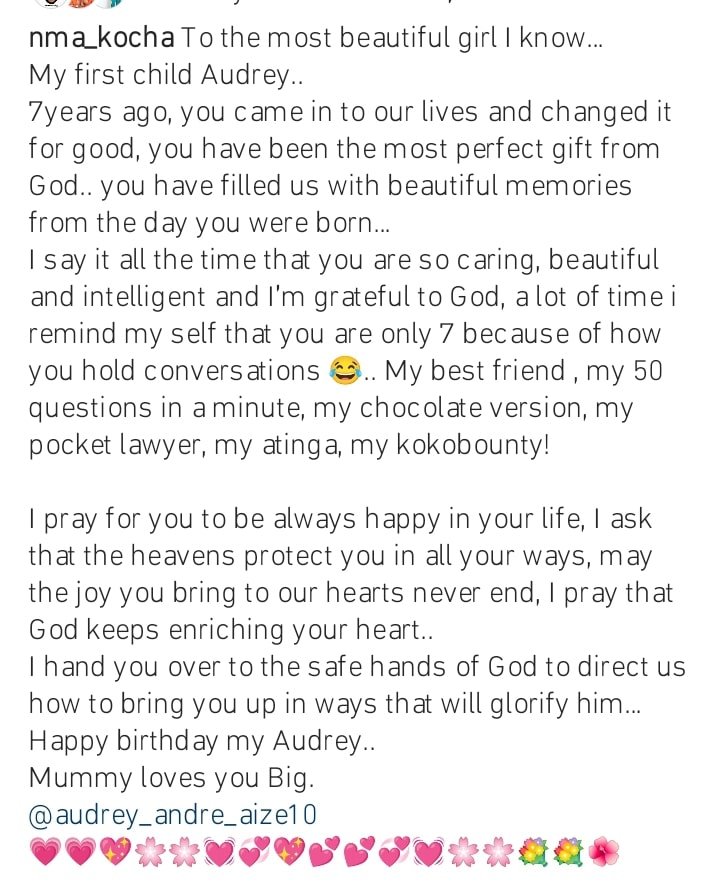 Read Also: "It would have been hard" – Nosa Rex expresses gratitude to his wife, Deborah