The Vlisco Fashion Fund is an annual development initiative launched by the Dutch wax company to empower African designers fulfil their dreams. Vlisco is the most popular producer of what we've dubbed 'ankara' in Nigeria and West Africa. The brand who has their largest market in the region, has come up with a number of initiatives to help boost the creative Industry locally and VVF is one more example of a brilliant and welcomed contribution to Entrepreneurship in Nigeria.
This year's Vlisco Fashion Fund saw over 500 applications handed in for the N2, 000, 000 + a couture Master Class grand Prize. 40 Semi-Finalists were selected and invited for a series of interviews with the panel. The 2017 panel included; Landre Da Silva Ajayi, Joan Ibuzo of House of Marie,  Afua Osei of She Leads Africa, 2 illustrators; Uche and Ethan from House of Marie and Dotun Akande a Vlisco Ambassador from Patrick Speech and Language Centre. This 6 man panel interview semi-finalists on 3 key parameters; their business plans, Creativity of Idea and execution. All semi-finalists were required to create a look and after numerous interviews and deliberations, 3 finalists were selected.
The 3 selected finalists were; Boma Inko-Tariah, Cheche Smith and Oluwakayode Etti . When the judges were asked the grounds on which the selected the winner, the answer was straightforward consistency. While they noted that Creativity was a big part of it, they selected a winner whose business plan, brand description, idea and execution were all perfectly aligned.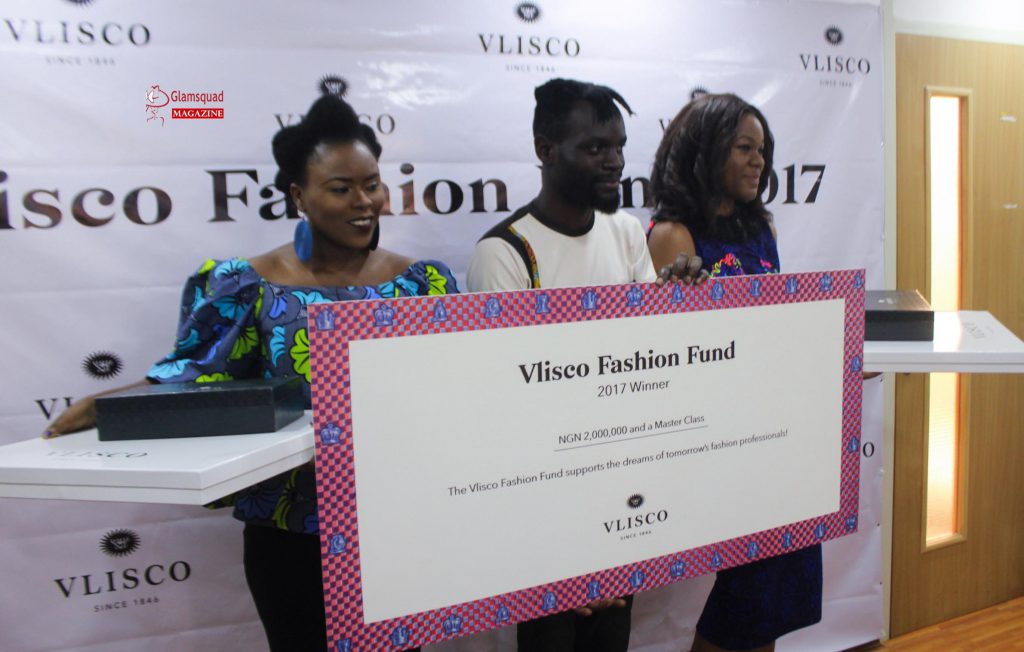 Before the announcement of the winner at the press briefing, press in attendance got a look at the work and profiles of the 3 finalists. When the winner was announced not very many including myself was surprised at the outcome. Oluwakayode Etti's victory was met with rapturous applause and an unspoken agreement amongst all in attendance that he was in fact deserving.
Oluwakayode Etti who grew up dreaming of becoming a singer also developed a love for fashion and design at an early age. He sketched and painted dresses but it wasn't until recently that he made the decision to pursue his passion for design. Early this year, Etti launched his own label called Skentele.
According to the designer, Skentele is a brand dedicated to portraying African designs, missed with western styles for global acceptance. The designer in his acceptance speech expressed his shock which was apparent to every present.
He told onlookers that he was not expecting to win and had started to envision what a possible runner up prize could be. He thanked the Vlisco Team and spoke on how funding schemes like VFF bring Validity to the dreams of many young designers. According to Etti "No matter what anyone says, things like this make me believe that I am on the right track. Thank you very much."
It was a wonderful day to say one more Creative mind empowered to succeed. The semi-finalists were gifted with participation prizes and also lauded and celebrated for making it this far in a pool of over 500 applicants.