The recently deceased Liliane Bettencourt has been the topic of global conversation since the announcement of her death by her family on the 22nd of September. The former richest woman in the world sat on a net worth estimated to have risen to 44 Billion Dollars as at September of this year.  Mrs Bettencourt was the Heiress to the L'Oreal Fortune of the L'Oreal Group, founded by her Father, Eugene Schueller in 1919 following his 1909 invention of the hair dye. Her life was as full of privilege as it was controversy. She was very fondly thought of at the L'Oreal group and her life was filled with as many admirers as it was detractors. Much of the coverage about Mrs Bettencourt post- mortem appeared to zero in on all the many controversies surrounding her life and family.
We are rounding up 5 noteworthy things to know about the Late Mrs Liliane Bettencourt;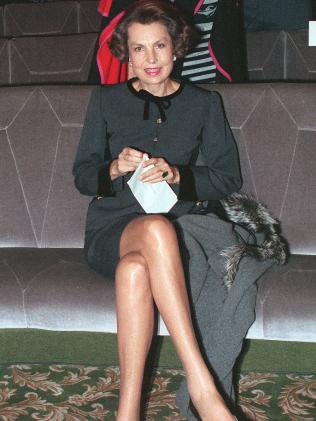 She was an only Child: Liliane Bettencourt was the only child of Eugene Schueller and Louise Madeleine Berth (nee Doncieux). Born on the 21st of October 1922, to her then 41year old father, Liliane grew up in privilege suited for children 6 times her number but with all the attention and doting of an only child. Her fortunate station also earned her the title and benefits of sole heir to the L'Oreal Family fortune upon the death of her Father in 1957.
She lost her Mother at the Age of 5: In 1927, tragedy struck in the Schueller household, little Ms Schueller lost her mother Louise Madeleine Berth at the tender age of 5. Her father, Eugene Schueller went on to marry her British governess but built a very close and solid relationship with his daughter.
She was married to a Politician: At the age of 28, Miss Liliane Schueller became Mrs Liliane Bettencourt. She married Andre Bettencourt, a politician who went on to serve as a Minister in two Presidents cabinets. Andre Bettencourt was from a Noble Norman Family and over the course of their marriage joined the board of the L'Oreal group. Liliane and Andre stayed married until his death in November of 2007 at the age of 88. Her marriage to Andre Bettencourt produced one child, Francoise Bettencourt-Meyers.
She had Fascist Ties: Liliane Bettencourt's life and reputation was soiled by WWII fascist ties of both her father and her husband. Her father was a financier and benefactor of La Cagoule a violent French Fascist, Anti-Semitic and anti-communist group. He held meetings for the group at L'Oreal Headquarters and after WWII hired many of them as executives at L'Oreal.
She was a phenomenal Philanthropist: For all the bad press that surrounded her life, not enough light and credit was given to Liliane for how generously she lived life. Mrs Bettencourt together with her husband and daughter set up the Bettencourt-Schueller Foundation which benefited from assets worth 150 Million Euros and annual endowments of 15 Million Euros. The Foundation was set up to develop medical, cultural and humanitarian projects. She also a patron of the Arts giving very generously to artistic endeavours.
She avoided Media Attention: As extroverted a socialite as she was, Mrs Bettencourt gave very few media interviews throughout the course of her life. The heiress and socialite much preferred to spend her time hosting private dinners and events and enjoying High Society but out of the glare of the media
She had 2 grandsons: Liliane was a grandmother to 2 handsome grandsons from her daughter and only child, Francoise Bettencourt Meyers. Although Liliane and Francoise did not enjoy a good relationship, that didn't appear to interfere with her relationship with her grandsons. Her eldest grandson Jean Victor-Meyers in 2012 at the age of 25 became the youngest member of the L'Oreal board and the youngest member of any publicly listed board in France. Jean was purportedly always the middle man in the squabbles between his mother Francoise and His grandmother Liliane. Her 2nd and younger grandson is Nicolas Meyer.