Not everyone gets them, but for those that do, dark spots on the face, chest, hands or elsewhere on the body can be seriously frustrating to deal with as they don't go away on their own and sometimes can't be covered by the average concealer
So, what are these discolorations, and why do some people have them? According to our experts, for the most part, dark spots on the skin can be attributed to two causes: scarring and hyperpigmentation (technically, scarring is post-inflammatory hyperpigmentation).
Exfoliate with Papaya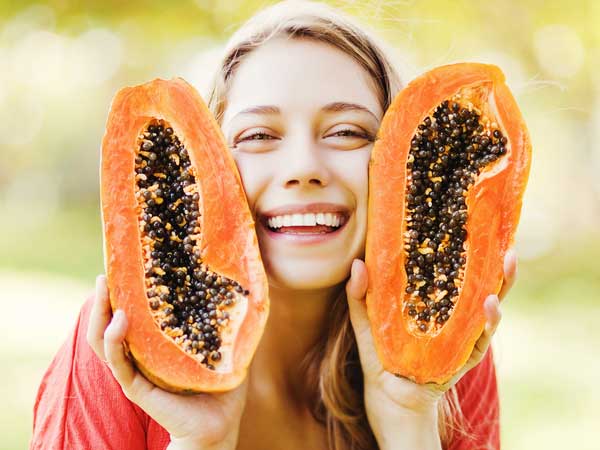 What's a surefire way to brighten the overall tone of your skin? Rinse away that top layer with a natural exfoliant, like papaya: "Papaya has fruit acids known as alpha-hydroxy acids, which is a chemical exfoliant," says Engelman. "AHAs are used for dry skin and to anti-age, and works to improve skin by removing the top layers of the skin through weakening the lipids that bond them together, thus, removing dull and dead skin cells and revealing healthy skin cells.
It is very effective in breaking down skin cells and also increasing collagen production because of the removal of dead particles. Papaya specifically will help brighten and give the skin a youthful radiance."
To treat your dark spots with papaya, simply mash ripe papaya in a bowl and apply as a mask to clean skin. When removing the mask, you can also use gentle, circular motions for a bit of added exfoliation to that dead top layer of skin cells.
Use Turmeric to Even Skin Tone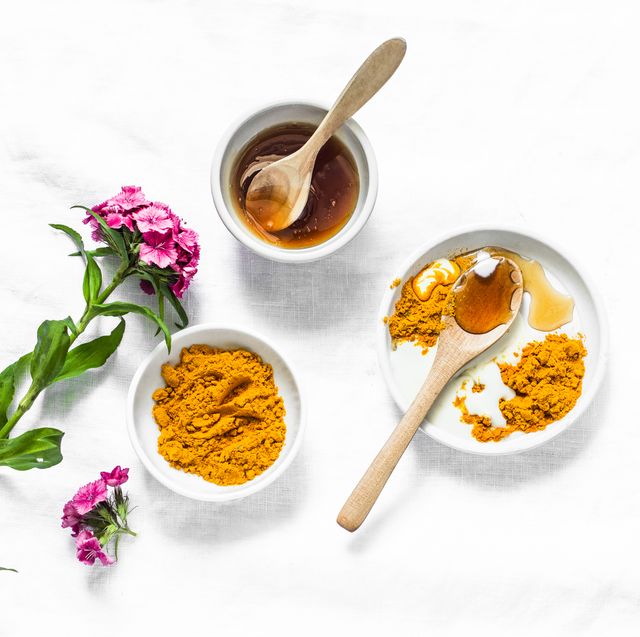 For ages, people in India, parts of Central America, and other subtropical areas have looked to turmeric for its many healing properties, from reducing inflammation to aiding the digestive process.
Turmeric's benefits also extend to the area of skincare, and it's been shown to inhibit the skin's melanin production, which results in spots due to hyperpigmentation. To fade dark spots with turmeric, make a mask using one part turmeric to one part honey.
If you wish, you can enhance the lightening process with a few drops of lemon juice, as long as your skin isn't too sensitive, and the citrus won't come into contact with open skin, like recently broken pimples.
KEY INGREDIENTS: Turmeric powder is made from the root of Curcuma zedoaria, a form of ginger native to Southeast Asia. Its active ingredient, curcumin, is what gives it that yellow-orange tinge; it's also what makes it such a potent anti-inflammatory. Turmeric is also found to lighten hyperpigmentation.
Soothe Skin and Reduce Spots with Almond Oil
Another skin-strengthening ingredient that's used both in the kitchen and on the complexion is sweet almond oil, which Engelman likes to use to treat discolorations in the skin. However, the almond oil commonly used to cook isn't quite the same as that used on the skin, which is often fortified with additional vitamins and minerals. "The presence of Vitamin E and niacin help with hyperpigmentation and improving skin tone," she says. Because sweet almond oil is generally viewed as non-comedogenic (meaning it won't clog your pores) you can add it to your nightly routine as a makeup remover or moisturizer meant to help protect the skin barrier.
Brighten with Yogurt
Another naturally skin-brightening item you may already have in your home is yogurt, which may work to fade dark spots by exfoliating the skin. Like the chemically exfoliating properties found in papaya, yogurt may break down dead skin cells thanks to lactic acid, which is found naturally in dairy products: "Using a yogurt with cow's milk could be effective in calming the skin, since it has lactic acid.
Lactic acid is an AHA, which improves discoloration and age spots," Engelman says. "This acid is gentler on the skin than other chemical exfoliants. Since it is derived from dairy, it helps to correct pH imbalances. It works to improve tone, texture, and reduces redness."
Yogurt can be applied to clean skin alone or mixed with additional ingredients known to improve the skin's health—like honey—which is antibacterial and great for acne-prone complexions3. Adding oatmeal to a yogurt mask will help slough and soothe dry skin, just be sure to rinse this mask away carefully, as not to tear or irritate the skin.
Reverse Photo Damage with Tomatoes
Rather than slather this ingredient on your face, tomato works best when taken systemically. According to a 2011 study, participants who ingested between around 55 milligrams of tomato paste with olive oil per day saw protection from acute and long-term photo damage brought on by UV rays4. Why is tomato paste so effective? Tomatoes are naturally rich in lycopene, which has multiple potential health benefits, including sun protection. Not a fan of tomatoes? Look to other similarly-hued fruits and veggies, like guava, pink grapefruit, watermelon, and red sweet peppers.