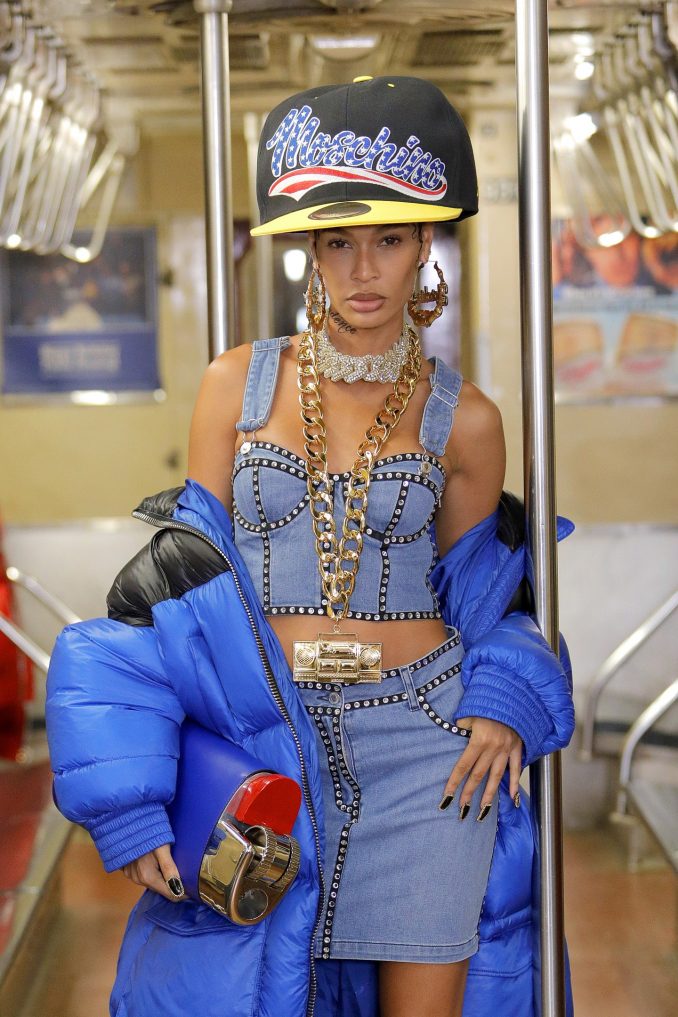 For Moschino's first catwalk show in New York, creative director Jeremy Scott explored every stylistic nuance – from uptown chic to Lower East Side grunge – to create fashion for all eventualities in the city that never sleeps.
All aboard to Moschino Street!
Scott set his love letter to New York in Brooklyn's Transit Museum, with giant Moschino Metro passes as invitations. Guests were given a car and a seat number within the Downtown institution housing artefacts of commuter systems, and they buckled in for a show that was one heck of a ride. As usual, the venue and its trappings were chosen to compliment Scott's showmanship – "fashion has to be fun," he told Vogue backstage, "otherwise it's silly" – but the location is also two miles from Pratt University, where he studied. While former Moschino collections have seen the creative director play on the culture of his Los Angeles home, the pre-fall 2020 womenswear and autumn/winter 2020 menswear lines offered insight into the place that shaped his signature high-octane glamour. "In LA, people use their cars [as status symbols], but in New York it's just you," he explained of the attitude that's inherent in city dwellers. "It's like, 'This is what I am, this is how much money I make.'"
Jeremy Scott's ode to New York is the stuff of teen dreams
From Madison Avenue tweed and Financial District flannels to Williamsburg denim, it felt like no corner was left untouched in Scott's referential romp around NYC. The maximalist mixing of tropes was emblematic of the designer's personal style renaissance when he moved there from Kansas City, and was encouraged to embrace his style for the first time: "I put on a different fashion show each day," he recalls. "I was constantly expressing myself on me, I didn't have [Moschino] as an outlet."
No sleep till Brooklyn
"I wanted to offer a little bit of everything," Scott summed up his latest work. "A round-the-clock set of ensembles for city girls and guys who aren't afraid to go from the ballroom to the back room, then watch the sun come up over the East River." What will Moschino revellers be wearing during these all-nighters? Slinky silver eveningwear dripping with embellishment. The only thing louder than the beadwork brushing past front row passengers? The clanging of the gigantic gold jewellery, from the XL watches to the stacked chains that would rival any rapper's collection. The finishing touch to the flashy gowns were temporary neck tattoos courtesy of celebrity inker JonBoy. It was the ultimate cherry on top of the high versus low, uptown versus downtown aesthetic at the core of the edit.
1990s Harlem street style is reborn
Scott flipped Harlem's legendary hip-hop fashion on its head with vibrant windbreakers, ginormous, cocoon-like puffer jackets, loud shell suits, boombox briefcase-cum-bags and oversized, jaunty caps. In case you're not a hat person, the headwear was also realised in handbag form. Why not wear both? For the models striding down Scott's subway-runway – and the dance troupe who closed the show – the mood was more, more, more.
Got a light?
Accessories were always going to be a highlight from the man who has served up TV-dinner handbags, hairspray-can clutches and champagne-bottle purses. Next season, Moschino's cult fanbase will be barging through crowds in meme-worthy backpacks and toting Bic-lighter evening bags. So capacious are the latter look-at-me pochettes, that they can house a whole carton of cigarettes, never mind a mere pack of 20. Does the word "lit" spring to mind?