"Long lasting, spiced-up wardrobe classics," is how Molly Goddard sums up her autumn/winter 2021 collection.
From the bow-adorned dresses to satisfy long-standing acolytes to the excellent outerwear for enlivening park walks, Olivia Singer shares the major talking points from the designer's virtual London Fashion Week show.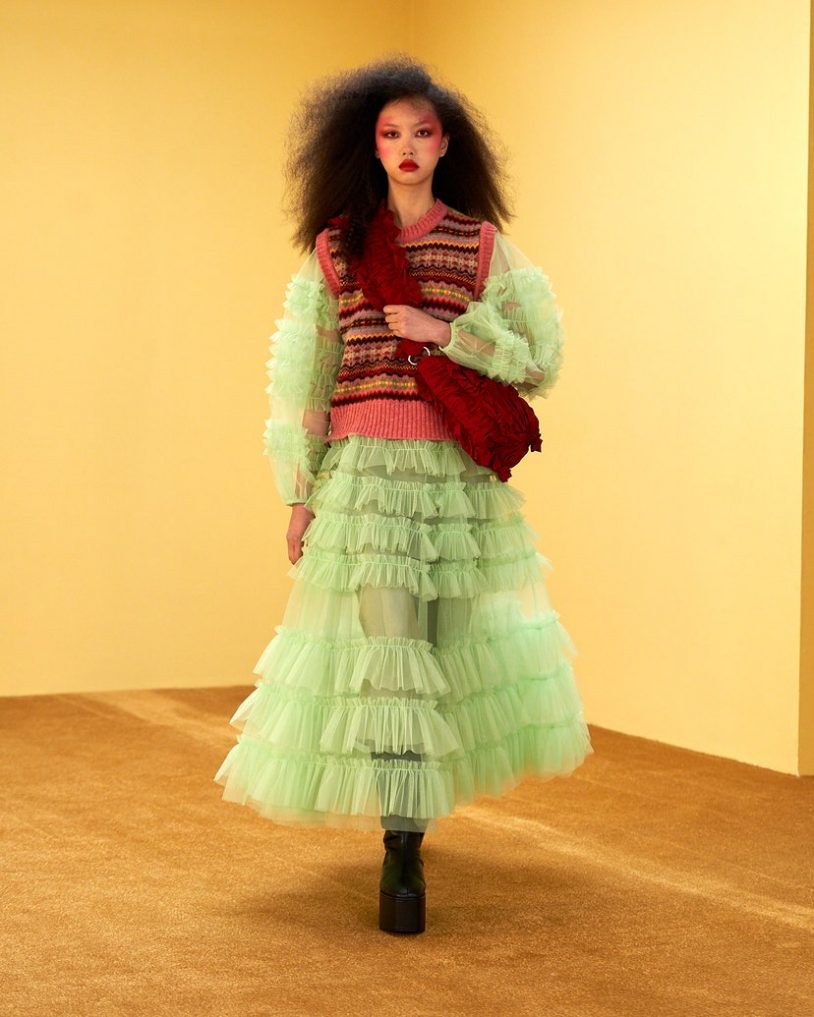 It offered concise clarity – but Molly Goddard style
As far as interviewing a designer about their collection goes, each season Molly Goddard remains wonderfully blunt; refreshingly free from PR spin or carefully-constructed narratives.
It is one of the few things that hasn't changed remotely during the pandemic. While we observe her filmed show (which starred just four models) remotely, and conduct our interviews over Zoom rather than amidst a backstage scrum, she reflects that:
"This season was the hardest [of the pandemic] so far. Before, there was a novelty to it – and the backlog of inspiration has slightly dwindled.
Not being able to go to the library to research is strange and, being eight-and-a-half months pregnant, I'm very stuck at home. I'm not going to the studio, I'm just working from here.
So it's even harder to talk about than usual, because my points of reference feel narrower." Looking at her clothes, you'd never have guessed – in fact, it might even have served her well.
What resulted was a concise clarity to her gloriously idiosyncratic designs, which appeared downright desirable while retaining a sense of the fantastical realism for which she is so beloved.
"I suppose I quite like working with boundaries," she conceded.
"Sometimes I get carried away and distracted – and I have folders and folders of research, so this time I could find things I love and finally do them."
© Ben Broomfield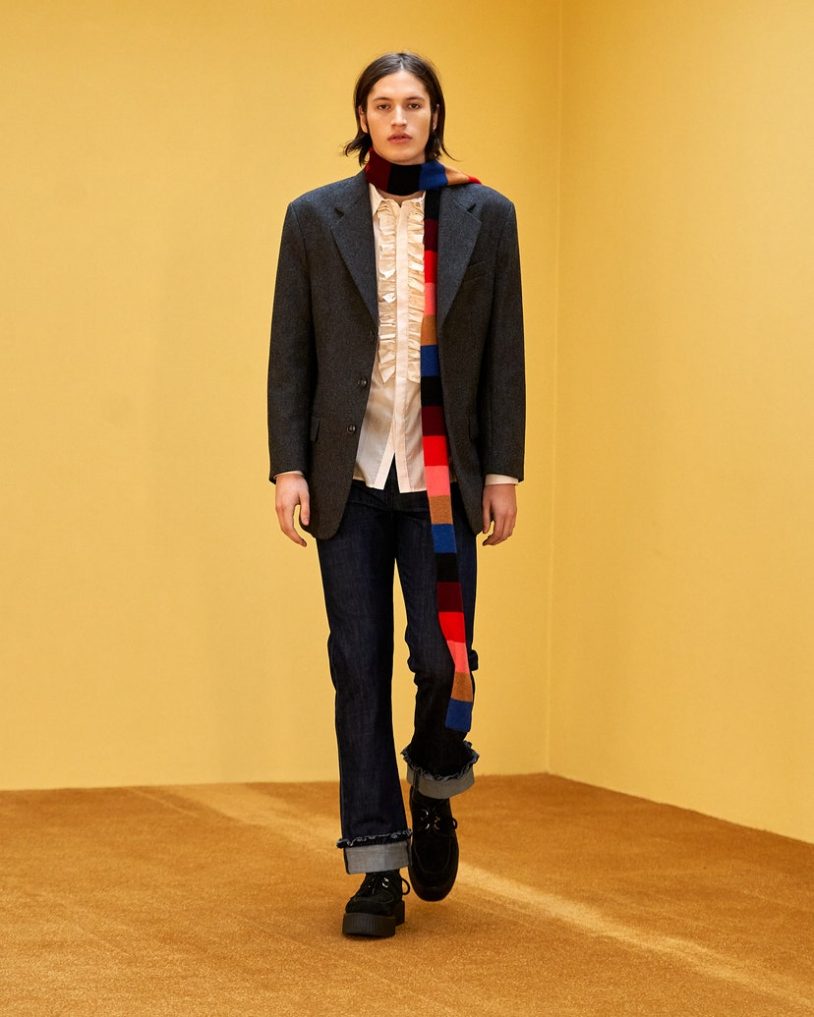 Tina Barney became a primary source of inspiration
Goddard's designs come alive when worn: their saccharine sweetness on the rail offset by the mix-and-match approach she encourages in their assemblage.
While she wasn't able to observe people interacting this season, Tina Barney's observational photo book, The Europeans provided the real-world inspiration she sought:
"I love looking at people (especially families) of all generations and how they wear clothes," she said.
"The contrast between characters and styles. A glamorous smoking grandmother, a sulking teenage son, an old man in tweeds and a young girl proudly ready for a night out."
Barney's documentation of society elites made perfect sense here: the eclectic propriety of Old World wardrobes a natural fit for Goddard's approach to fashion.
In that spirit, menswear was back – while it didn't appear on last season's runway, it's been selling well – and in Melton Mowbray wool, the relaxed tailoring certainly had that Barney charm.
© Ben Broomfield
Glorious gowns remained
And, as was the case with Barney's world – or the Terence Conran interiors and DIY books she also excavated – her references this season "occasionally feature a well-dressed person in a beautiful home."
So just because we're on our sofas, it certainly doesn't mean that the fabulous showpieces have gone out the window: a red and black layered princess dress was equal doses '80s nostalgia and modern cool; the ruffled turquoise final look evocative of a Pretty in Pink prom was still made of 13 metres of tulle.
With spiked bows or clashing colours, they lent into off-kilter romance rather than simply appearing as princess dresses (a ribbon-adorned turquoise dress was one of her weirdly wonderful best yet).
Long-standing acolytes for her internet-breaking closing numbers will still be satisfied this season.
© Ben Broomfield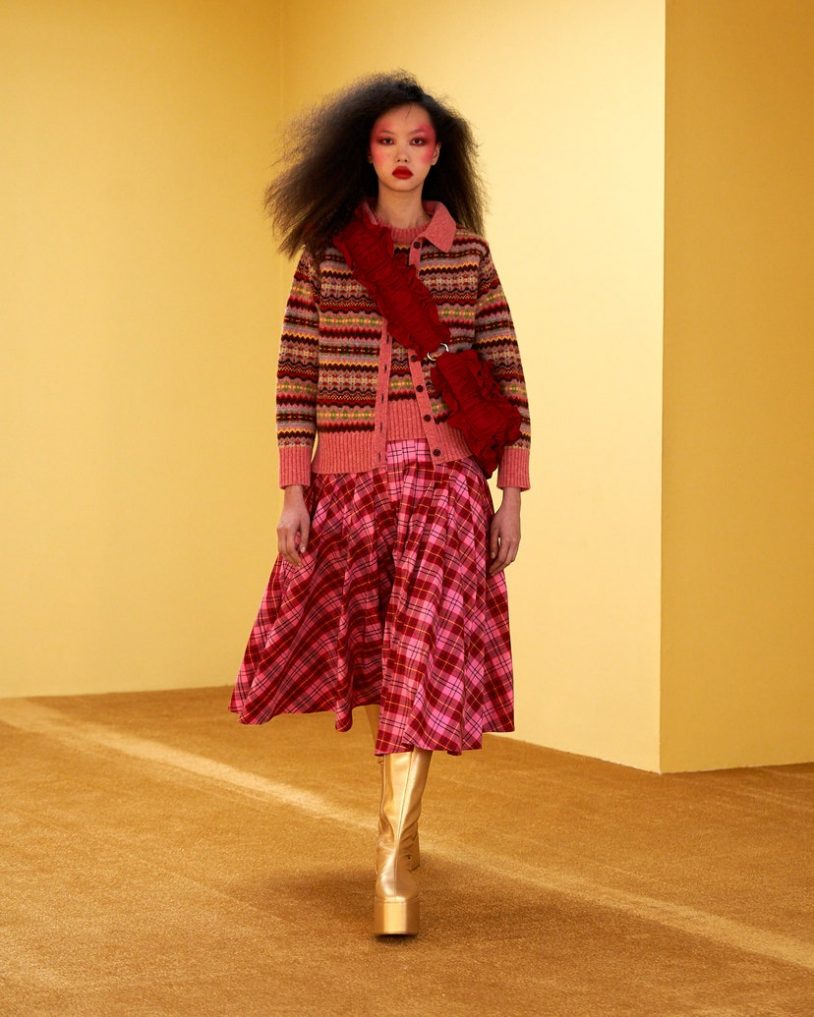 But there were looks to pop to the shops in, too
"I am quite fed up of seeing leggings and black puffa jackets for walks in the park," remarked Goddard. Here, there were plenty of alternatives.
A look comprising a tartan overcoat worn with a striped scarf and turn-up denims would certainly turn heads when walking the dog (in fact, all of the outerwear was excellent).
A brilliant array of Fair Isle knits would easily enliven any leggings – but looked even better worn with leopard print.
A Working Girl tweed skirt suit was more than enough to encourage a return to the office.
The composites, worn with layers of patterned socks and cross-body bags, had a similar appeal to a rummaging through a treasure trove of vintage. "Pieces in this collection are for celebrating and enjoying," she said.
"Each item could have been handed down through generations, and now hopefully will be. Long lasting, but spiced up wardrobe classics."
© Ben Broomfield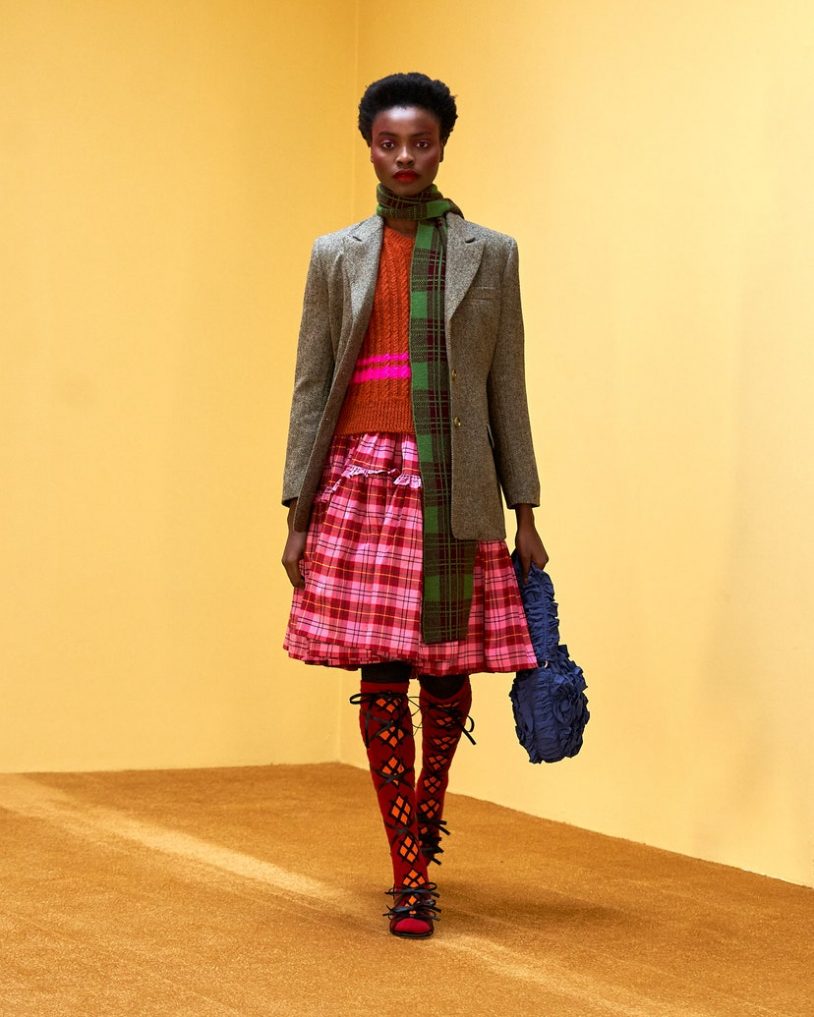 The shoes were simply excellent Molly
There's not much more to be said than that apart from, as Goddard attests succinctly, "they're comfortable".
Golden metallic '70s platforms; shimmering blue boots; leather sandals laced over thick Argyle socks; God, they were good.
Last season, Goddard's collaboration with Uggs provided footwear to brighten up any day spent working from home. But this array has us yearning to leave the house a few inches taller. Fingers crossed.