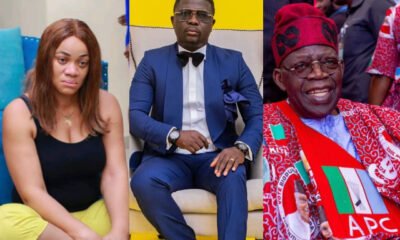 Nigerian actor and filmmaker Uchenna Nnanna has called out her colleague Seyi Law for opting to support the presidential candidate of the All Progressive Congress (APC), Asiwaju Bola Ahmed Tinubu, in the upcoming presidential election.
Seyi Law had expressed support for the former Lagos State governor in an Instagram post, citing his achievements in Lagos State after the military era as the basis for his support.
Seyi Law posted:
"We can pretend, refuse to accept it, and even deny it, but what Tinubu did to rebuild Lagos after the military era can never be overstated. You can use other metrics I don't know to judge him, but to deny his works in Lagos as governor and the continuity is plain hatred. If I was paid to campaign for ASIWAJU BOLA AHMED TINUBU, let God judge me. I have always maintained my stance that I will never receive money to campaign for any politician and that I have always kept. This coming election, BAT is my candidate."
Following his post, Uchenna Nnanna, who was clearly displeased, told Seyi Law to "kindly Bring your family back to Nigeria before discussing who will be the next president of Nigeria or not.''
ALSO READ: AMAZING FACTS ABOUT UCHENNA NNANNA, ONE OF THE TOP NOLLYWOOD STARS WITH DIVERSE SKILLS
Uchenna Nnanna is a strong supporter of the Labour Party's presidential candidate, Peter Obi. The former Anambra State governor commands a strong support base on social media and has proven that the masses are behind him offline, as evident at his campaign venues.
Obi has promised to transform Nigeria like he transformed Anambra State during his term as governor. Peter Obi is the only one of the three major presidential candidates with a clean record in terms of financial crimes, which appear to be the norm in Nigeria. Some Nigerians have thrown their weight behind Obi on this basis.
Credit: Gist Lover