Singer, Paul Okoye better known as Rude Boy has lamented about the amount of violence and tribalism that took over the 2023 gubernatorial election in Lagos State.
Taking to his Instagram story, Paul Okoye who is a staunch supporter of Labour Party sent out a warning to those concerned that he won't have anything to do with them after the election.
Citing his reasons, Paul noted that the level of threats, thugs and tribalism is enough reasons for him not to trust anyone (specifically his colleagues).
Read Also: Okon Lagos lay heavy curses on those behind political violence in Nigeria 
Recalling the End SARS protest which rocked the country in October 2020, Paul said the Nigerian Army and the Nigerian Police force were on ground shooting at peaceful protesters but on election day, they are nowhere to be found. Thus, the thugs took over the electoral process.
He wrote:
"With all this threat thugs, voters impression, tribalism etc, after this election know this and know peace… I will not be eating in the same table with some of you… I will never trust some of you… my long spoon will always be available. Some of you are not humans.

"During #ENDSARS police could be seen… Army could be see shooting innocent people… but today they are nowhere to be found. Some hoodlum and thugs are in charge of the electoral process. Shame!!!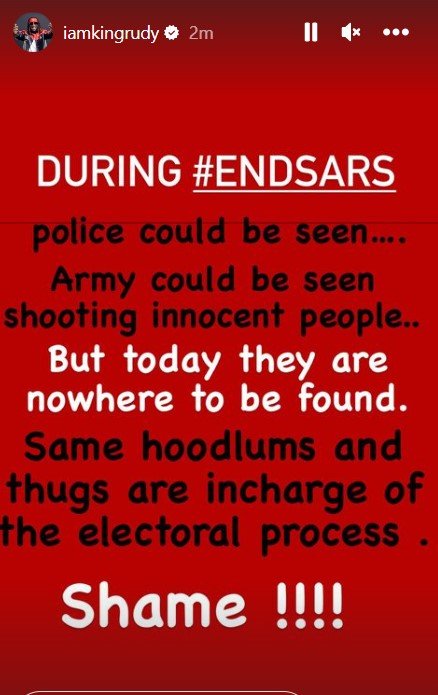 Read Also: 2023 election – "You people are a shame and disappointment" Iyabo Ojo slams INEC over bad reports