Nollywood actress, Juliet Ibrahim has advised Nigerians as they go out to exercise their civic rights today, 24th February 2023.
Today, Nigerians will decide who would be their next president, vice president, members of the senate and house of representatives. 
Read Also: American president, Joe Biden calls for 'free and fair elections' in Nigeria – Read full statement
Taking to her Instagram page, Juliet Ibrahim who is a Ghanaian recalls how she grew up in four different countries as a refugee and this cost her family a lot of relocation because of various circumstances.
She further revealed that she watched her parents, family and relatives being harassed and such memories play out in her head in every election or during political unrest. 
she emphasized that violence should never be the solution. Instead, she urged them to exercise their right to vote peacefully and choose the most competent candidate, while rejecting corruption, mediocrity, lack of empathy, anarchy, violence, instability, and tribalism. Additionally, she expressed her hope for the country to regain its greatness. 
She wrote:
"Fellow Nigerian brothers and sisters, As you all go out today and Vote for The Best Candidate I thought I'd share some words of encouragement with you.

"As a child, I grew up in 4 different countries and due to unfortunate circumstances, my family and I had to relocate thrice. I grew up and lived as a refugee in each of these countries.

"I experienced 3 civil wars. I witnessed my parents, relatives being and harassed right before my eyes. These are moments I still remember vividly and I relive these memories every election or during any political unrest. I still get traumatized by the mere sound of fireworks. I do not wish this upon anyone so I say to you brothers and sisters that violence is NEVER the answer.

"Please Go out and Vote PEACEFULLY for The Best Candidate. VOTE FOR SUCCESS, VOTE FOR GROWTH, VOTE FOR PEACE, VOTE FOR MENTAL STABILITY, VOTE for A GREAT LEADER with VISION,VOTE for Consistency. VOTE for a Nigeria your kids would be proud to be born and live in. VOTE FOR your candidate of choice

"Best wishes as you vote for your candidate of choice. Please keep it peaceful, free, and fair. GOD BLESS THE FEDERAL REPUBLIC OF NIGERIA.

"Dear Nigerians, this is not the time to sit on The Fence. Your choice TODAY would determine the state of Nigeria in years to
come. Nigeria is a great country, We all see this, We all know it.

"You shouldn't allow Corruption, Mediocrity, Lack of Empathy, Anarchy, Bigotry, Violence, Instability, and Tribalism to continue to be the order of the day. This is a moment in history because the World is watching so please stand in this together and do the Right Thing. Do not be divided BECAUSE your future lies in your hands.

"GOD BLESS THE FEDERAL REPUBLIC OF NIGERIA".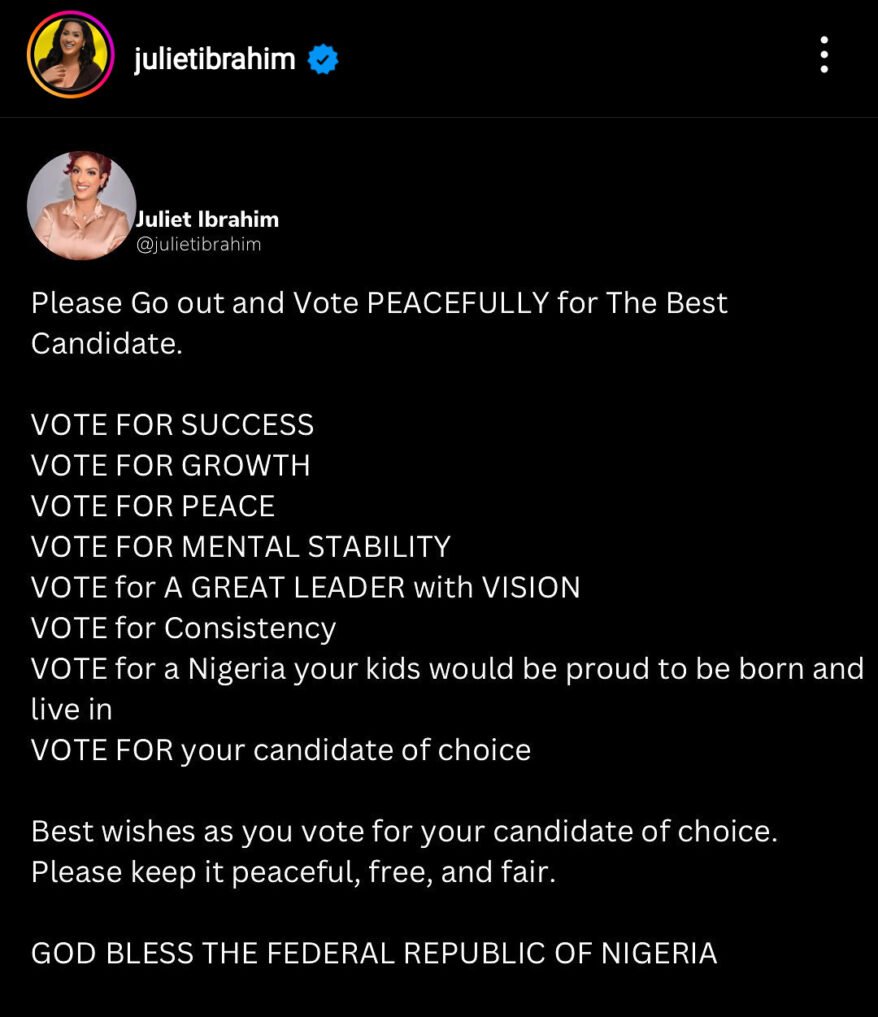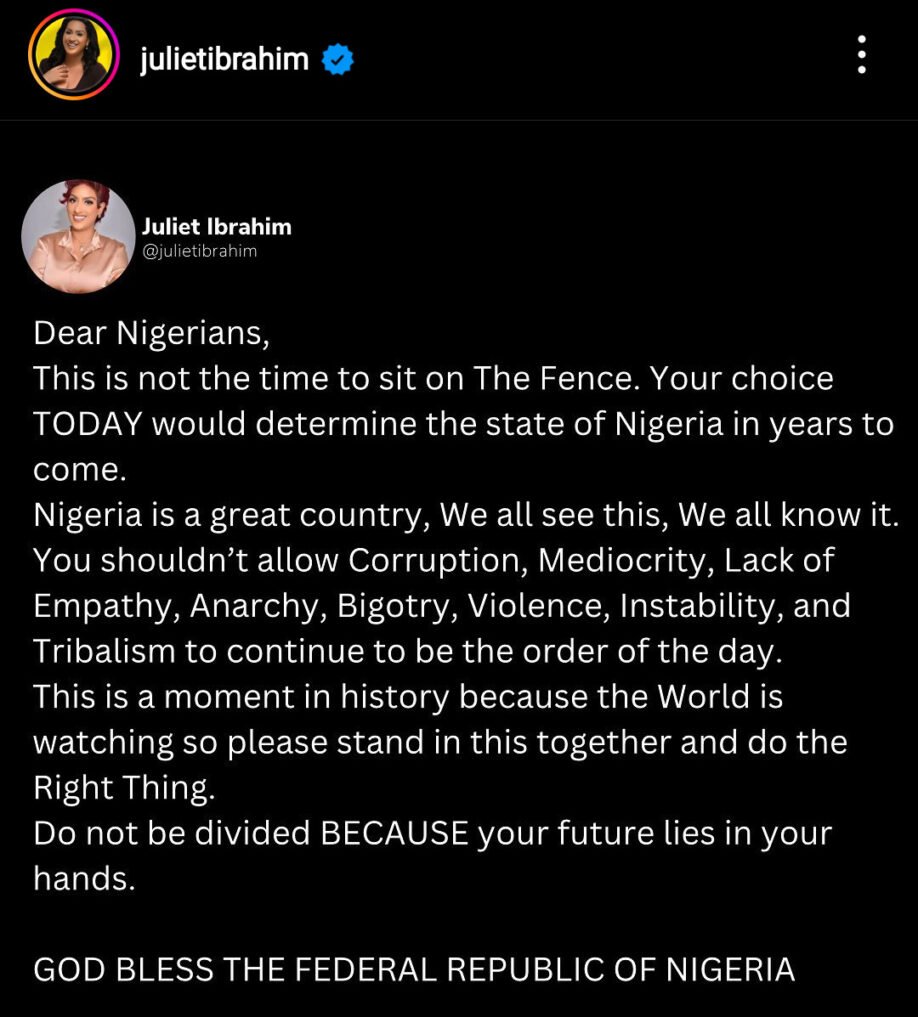 Read Also: 'Don't punish us with another bad leader" Apostle Johnson Suleman prays ahead of 2023 general elections