Body enhancement is a serious business in today's society; even though the procedure isn't cheap, both men and women, particularly women, will give an arm and a leg to have the ideal body.
Celebrities are flaunting their new forms in public, disregarding what others think. These prominent figures appear to have the means to undergo cosmetic surgery, whereas those who cannot afford it opt for less invasive methods.
Read Also: MEET THE DESIGNER: Creative Directors of Raisa Vanessa
Here are some celebrities who went under the knife/facelift/Botox;
Kim Kardashian
"A little bit of Botox," Kardashian told Allure of what she has had done to her face during her 2022 cover interview. "But I've chilled, actually."
The star even claimed she's never even had eyelash extensions. "I've never done anything. I have a drop of mascara on today. I've never filled my cheeks. I've never filled my lips."
Bella Hadid
Hadid revealed in her 2022 Vogue cover story that she regrets her 14-year-old nose job. "I wish I had kept the nose of my ancestors," she said. "I think I would have grown into it."
Khloe Kardashian
During the KUWTK series finale reunion, Khloe Kardashian revealed that she has done only one nose job; "For me, everyone says, 'Oh my gosh, she's had her third face transplant,' but I've had one nose job". On her talk show Kocktails With Khloe, the star also admitted to having facial fillers dissolved. "My face was so fucked I had to go and get this whole thing dissolved," she said. "It was a bummer and now I'm afraid to do it again. And I'm almost like, I swear things are still in my face."
Kourtney Kardashian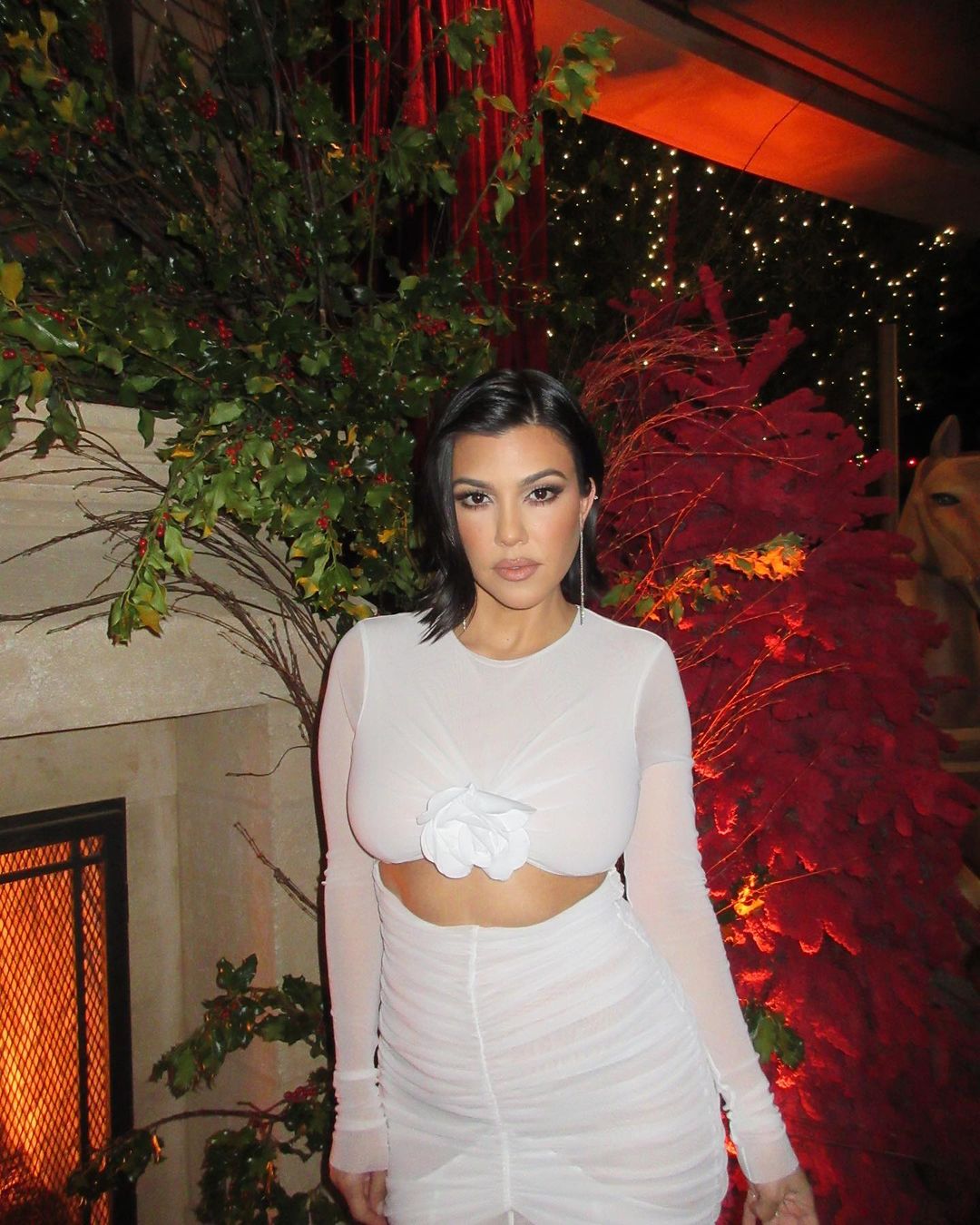 "I have had breast implants, but it's so funny 'cause it's not a secret, I could care less," Kardashian told Nightline in May 2010.
Read Also: Lookbook: L'Agence Spring Summer 2023 collection
Dolly Parton
Speaking with CBS Sunday Morning back in 2019, Dolly stated that she is knows she looks artificial but she loves to believe she is real. She said;  "My look is really based on a country girl's idea of glam. I wasn't naturally pretty, so I make the most of anything I've got." The country legend has admitted to a few cosmetic procedures, including breast implants, a brow lift, and eyelid surgery.
Katy Perry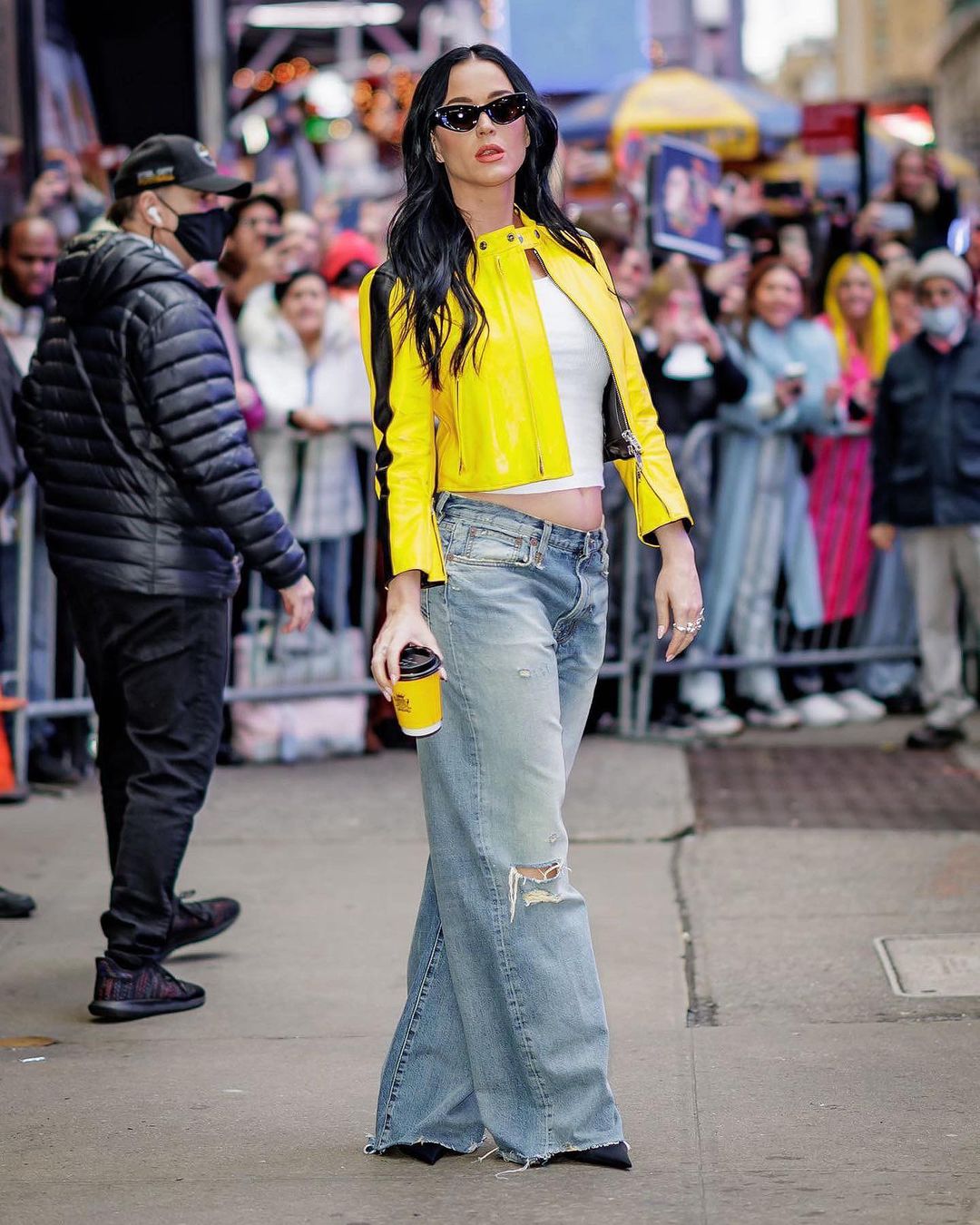 "I've done lasers and got [filler] injections under my eyes for the hollowing — which I'd recommend for everyone who wants a solution for their dark circles — but all of my assets are real, Perry told Refinery29. "People tend to think they are fake, but it doesn't really matter."
Tyra Banks
Speaking with People magazine in 2018, Tyra Banks revealed that she had cosmetic surgery after writing about the idea of natural beauty in her book. "I had bones in my nose that were growing and itching," She said; "I could breathe fine, but I added cosmetic surgery. I admit it! Fake hair, and I did my nose. I feel I have a responsibility to tell the truth."
Yolanda Hadid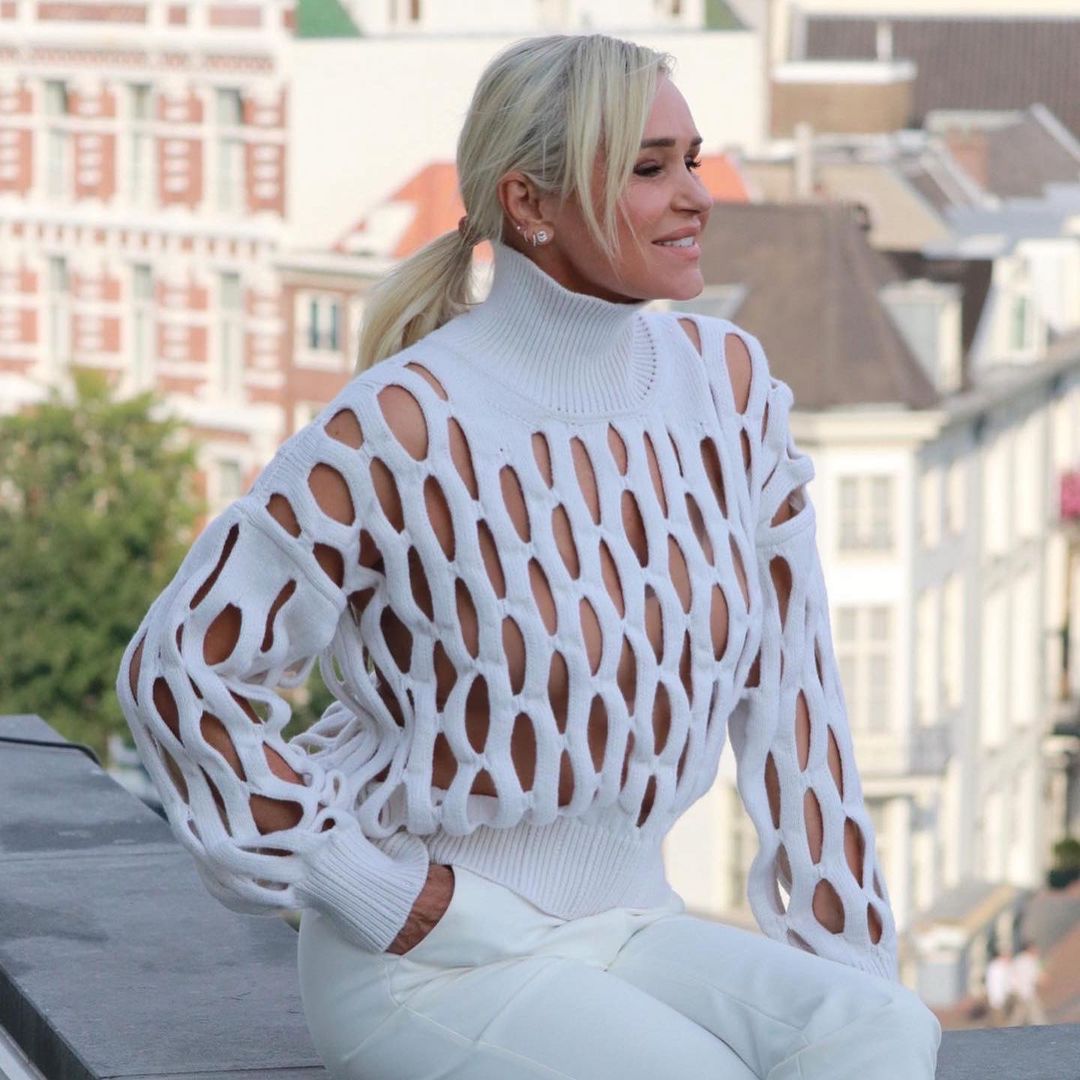 Hadid previously stated that she stopped having Botox and dermal fillers years ago after being diagnosed with Lyme disease. Sharing in an Instagram post she wrote; "Fifty five and smiling from the inside out…finally back to the original 1964, Living in a body free of breast implants, fillers, botox, extensions and all the bullshit I thought I needed in order to keep up with what society conditioned me to believe what a sexy woman should look like until the toxicity of it all almost killed me".
Britney Spears
In a 2013 cover story interview with InStyle, the singer opened about a small cosmetic tweak. "A doctor I see, [Beverly Hills plastic surgeon] Dr. [Raj] Kanodia, does fun stuff to me sometimes—I've had lip injections before," she said.
Cardi B
In the past, the rapper has been outspoken about her decision to undergo different plastic surgery procedures. Cardi B confessed in an interview that she had illegal injections in her buttocks in addition to a breast augmentation. "In order to get lipo, where they put the fat transfer in your ass and it gets bigger, you need to have fat. I did not have no type of fat," she said. "But I was desperate to have a bigger ass."
Tonto Dikeh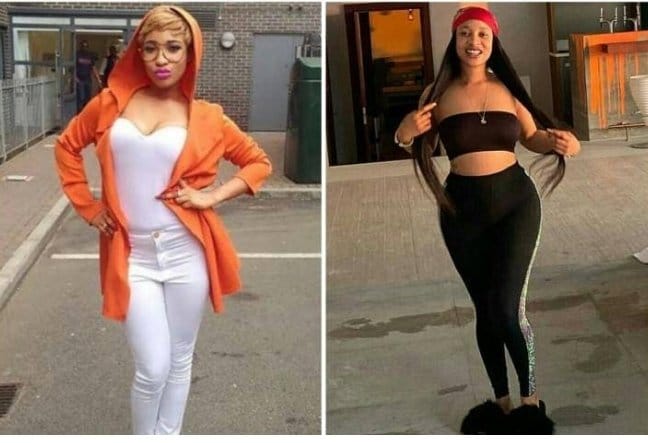 Nollywood actress cum politician, Tonto DIkeh had gone under the knife however she didn't deny the fact that she did as she made it known to the public her intention to go for a third.
Toke Makinwa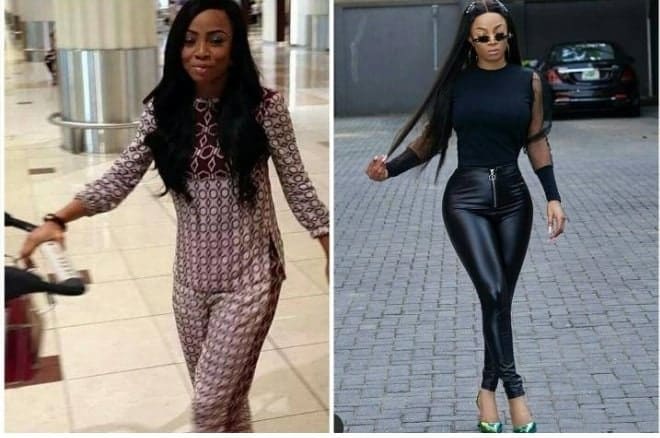 Media Personality and Model has accepted that she did a butt and hip job. Toke could not have denied the claim as it was too obvious. Her before and after pictures spread like wildfire on the internet.
Ini Edo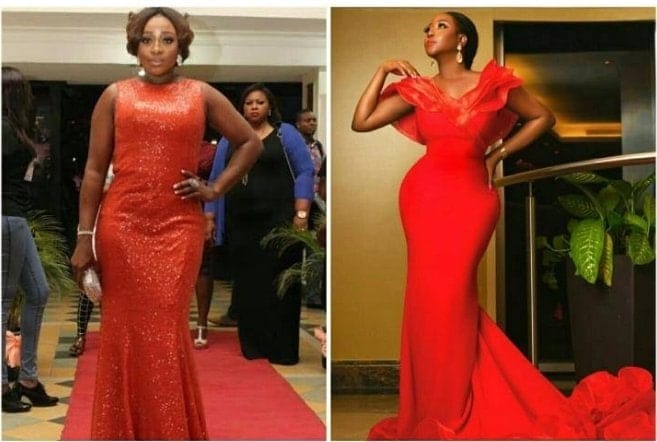 Nollywood actress Ini Edo also followed the trend of getting Brazilian Butt, otherwise known as Butt and hip implants.
Although she has not come out to blatantly deny or accept the claim, she once said it in an interview that plastic surgery is not a crime.
Annie Idibia
The wife of the music legend, 2baba is not left out on this list. Annie has also been rumoured to have gone under the knife for bigger Butt and hips. She is yet to deny or accept this claim.
Chika Ike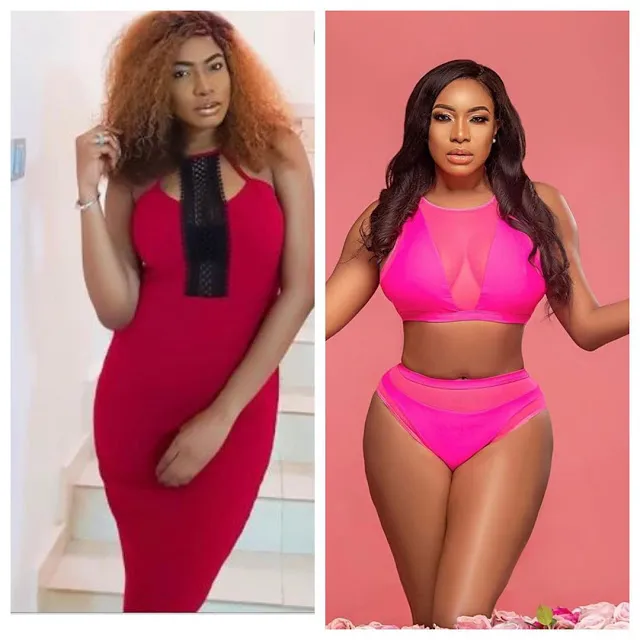 Nollywood actress, Chika Ike's Before and after pictures have been trending, but the actress still denies it all. She has been rumoured to have gotten a butt and hip implant. According to her, her body is all-natural.
Daniella Okeke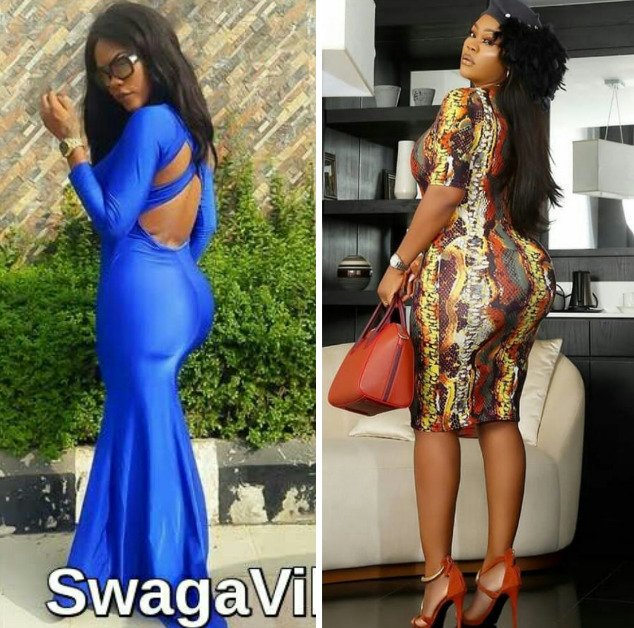 She is an award-winning Nigerian actress, who hails from Imo state. Danielle is a fan of luxurious things, especially cars and has been accused by observers of doing surgery for good body as her body bangs a lot.
Mercy Eke
The winner of Big Brother Naija "Pepper Dem" reality TV show has made no secret the fact that she did a butt implant. In fact, if she lied about it, it would have created a controversy as her Butt is actually a 'dream' for many women.
Onyi Alex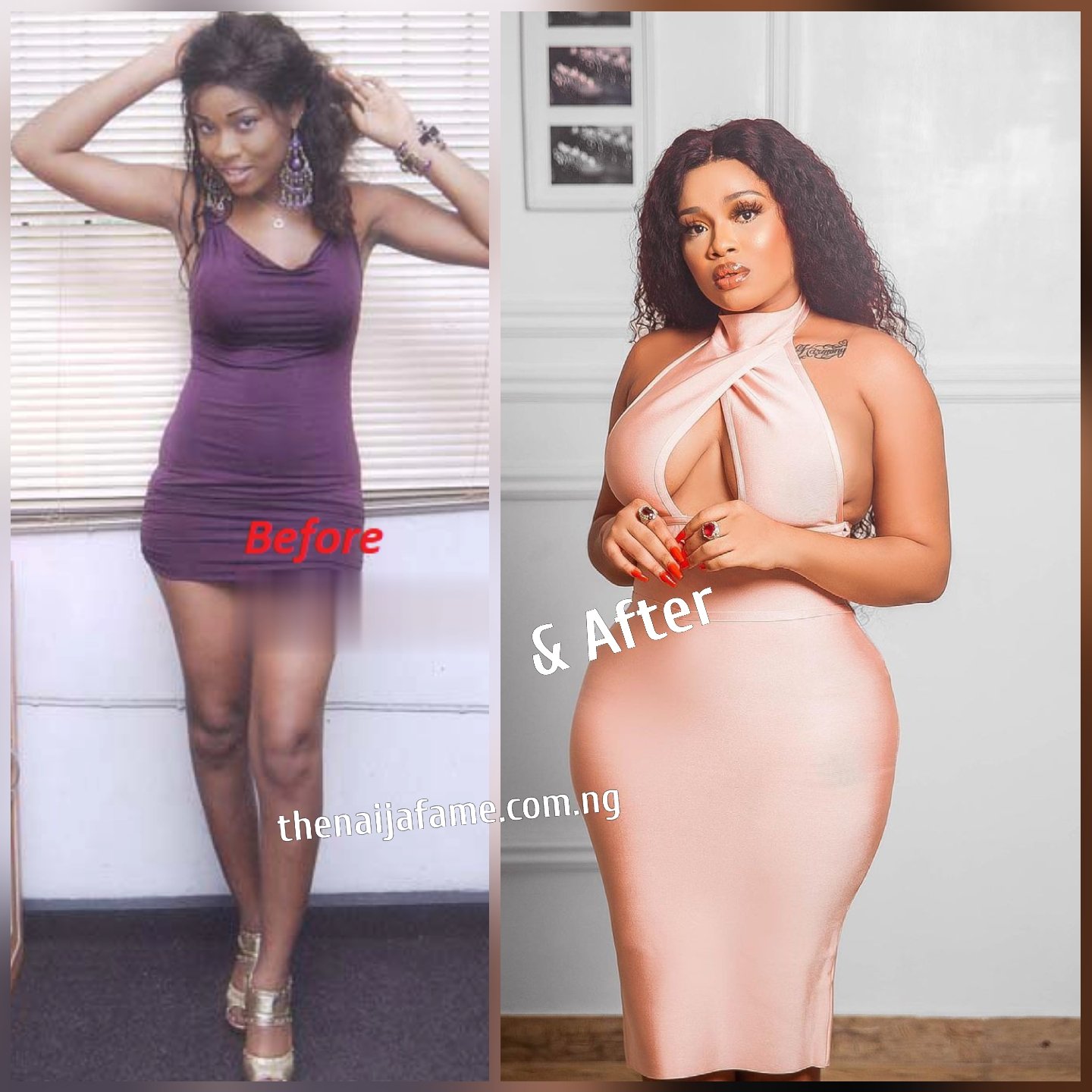 She is a fast-rising Nollywood actress, model and television personality. She also is one of the female Nigerian celebrities that sought to get an artificial body.
Karen Igho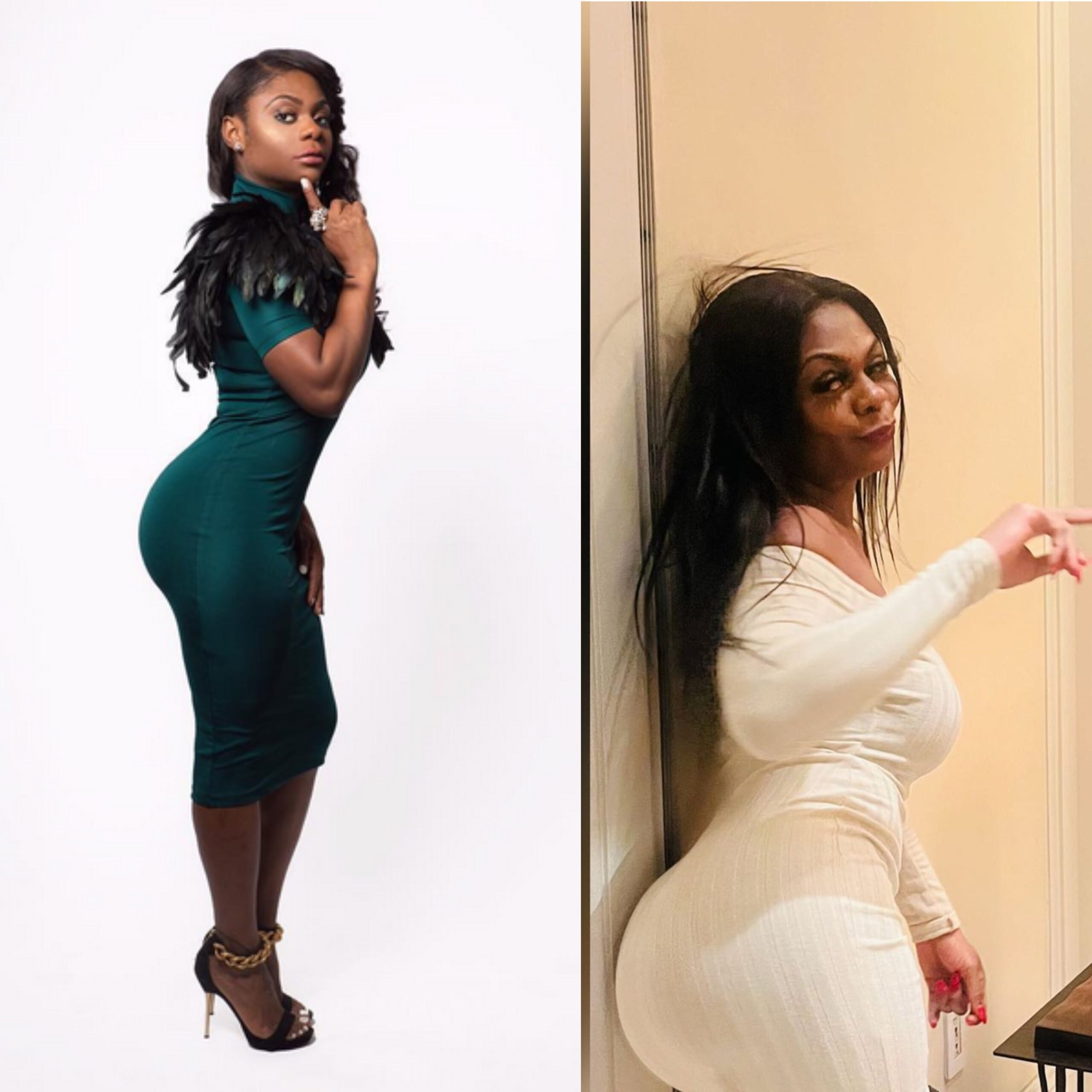 She is the winner of the 6th edition of Big Brother Africa, and she is a model and a media personality. Karen has the body of a goddess with her big boobs and Butt well-shaped. However, her body isn't as a result of nature but due to the innovative work of surgery.
Iyabo Ojo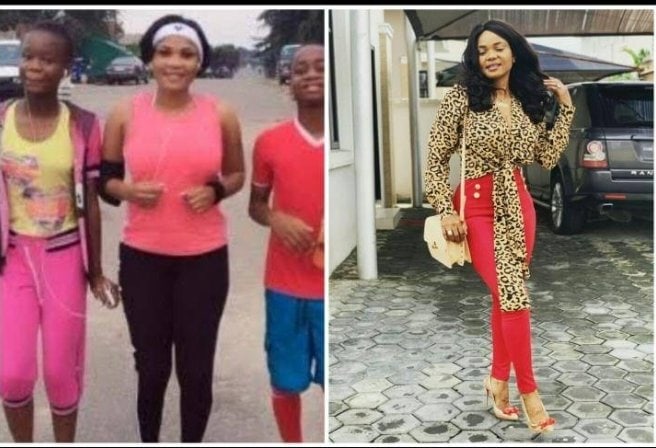 She is a Nollywood Actress, businesswoman, director and film producer. Iyabo Ojo almost lost her life to a tummy-tuck and bum enlargement surgery some years back. She reportedly went into a coma for five days but recovered after the efforts of highly qualified doctors. She is however good now and even after age forty, looks smarter and younger.