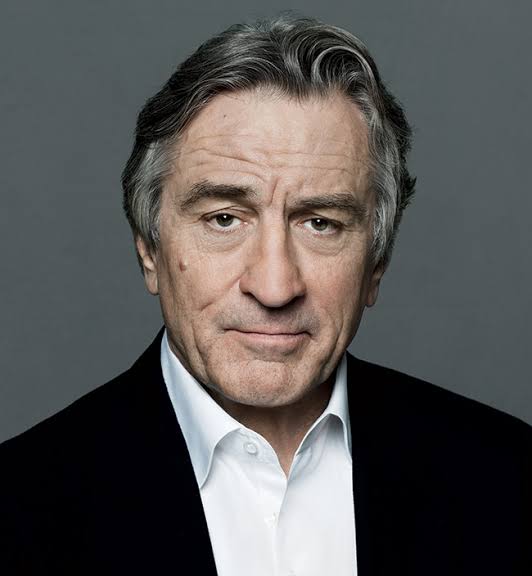 Professions: Actor, Producer, Executive Producer
Birth name: Robert Anthony De Niro Jr.
Nationality: American
Born August 17, 1943 (New York, New York – United States) Age 78 years old
spouse: Diahnne Abbott married 1976; divorced 1988
Children: 6, including Drena and Raphael
Parents:
Robert De Niro Sr.
Virginia Admiral
Oscars
2 wins
8 nominations
BAFTA
0 wins
7 nominations
Golden Globe Awards
2 wins
10 nominations
Primetime Emmy Award
0 wins
4 nominations
Screen Actors Guild Awards
0 wins
5 nominations
Net Worth :$500 million
BIOGRAPHY
READ ALSO; John Dumelo Biography: 10 things you didn't know about the famous Ghanaian Actor
Robert De Niro grew up in the Little Italy neighborhood of New York. He left school at the age of sixteen to take drama classes at the Dramatic Workshop at Luther James Studio and Stella Adler's theater school. He also followed the teaching of Lee Strasberg at the Actors' Studio, where he met Harvey Keitel, whom he would meet again on several occasions throughout his career. He went on stage for the first time in Anton Chekhov's The Bear, and made a discreet film debut in 1965, as appearing in Marcel Carné's film Three Bedrooms in Manhattan.
Early career life
Robert De Niro met Brian De Palma with whom he shot three semi-improvised comedies: The Wedding Party (1966), Greetings (1968), and Hi, Mom! (1969). But it is Martin Scorsese who reveals his talents as an actor to the general public thanks to the thriller Mean Streets (1973), in which he plays the fiery Johnny Boy.
The following year, his character as a young Vito Corleone in The Godfather, Part 2 by Francis Ford Coppola won him the Oscar for Best Supporting Actor, and after his disturbing performance in Taxi Driver (1976), Robert De Niro asserted himself as an actor of composition, fully embracing the profile of his roles.
A perfectionist, he did not hesitate to learn the saxophone for the musical New York, New York (1977), to live alongside steel miners for Voyage au bout de l'Enfer (1978), to gain thirty kilos to play a boxer on the decline in Raging Bull (1980), a performance which earned him the Oscar for Best Actor, or to learn mass in Latin for the needs of Bloody Confessions (id.).
In 2010, the actor starred in the action comedy Machete by Robert Rodriguez and Ethan Maniquis, where he played a crooked senator. From a role of senator in the cinema, he became in life the 64th president of the jury of the Cannes Film Festival in 2011, where he dedicated The Tree of Life by Terrence Malick. The same year, he distinguished himself in no less than five films, in very different genres: the thrillers Stone and Limitless, the action film Killer Elite and the romantic comedies Happy New Year and Love has its reasons (shot in Italian, a language he had not used on screen since The Godfather, Part 2, 37 years earlier). The following year, it is in the role of the marginal father of Paul Dano, in the drama Monsieur Flynn, that we find him. That same year, he also starred in Red Lights and Elite Units, two films that failed to restore the image of the great star he was.
Movies starred
READ ALSO: Glam Look Of The Day: Actress Mercy Aigbe Slays In Owanbe Outfit

filmed in 1998 under the leadership of two "big names" (Quentin Tarantino for Jackie Brown and John Frankenheimer for the action film Ronin), Robert De Niro "cachetonne" in mainstream comedies like Mafia Blues (1999) and his suite (2003), Nobody's Perfect (2000), Showtime (2001) and the My Step-Father and Me trilogy. We also see him getting lost in thrillers of little interest (15 minutes, Father and cop, Godsend, Trouble game)