Day 2 of the prestigious Lagos fashion Week 2018 saw Orange Culture win the hearts of the audience with their colorful rainbow fashion collection themed "Raindrops and Tears depicting the label breaking down in detail toxic masculinity, one collection at a time. The Creative Director Adebayo Oke-Lawal whose imagination and fashion inspiration cuts across men's wear but employing masculinity to redefine style and attitude.
While other fashion labels like Re', Style Temple, Kenneth Ize, Sisiano adorned the runway to showcase their fashion autumn/winter presentation, the stage was set as Orange Culture, which was the final presentation of the night.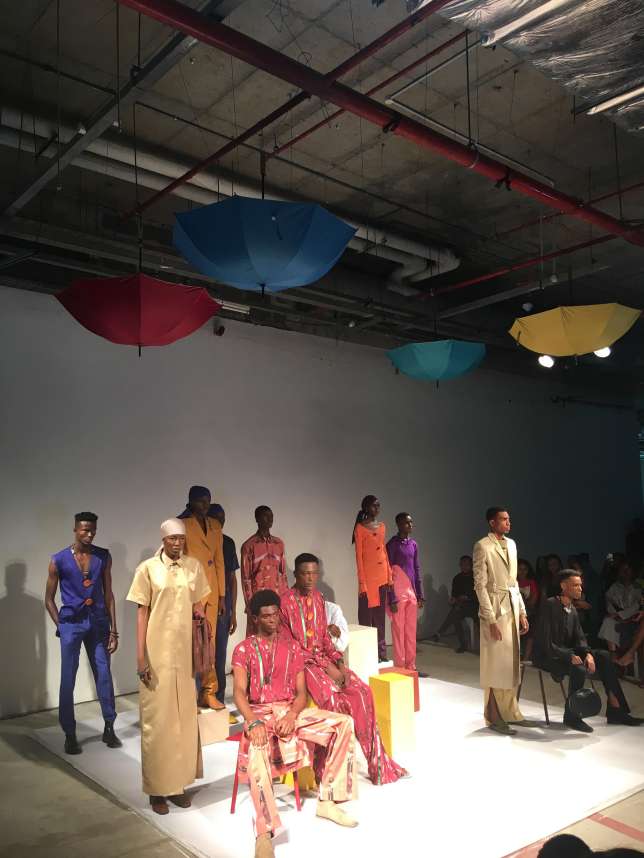 With so much anticipation, the crowd was packed waiting anxiously for the much-anticipated showcase. Colorful umbrellas hung from the rooftop and the stage was set with furniture/ props from minimalist furniture designer, The Aga Concept.
The label had provided some context to the show explaining this season Orange Culture showcase as 'exploring the rain and its relationship with humanity'.
A voice rang out through the speakers; it filled every nook and crevice of the room:
"The beautiful release you get when you allow your problems flow from your eyes"
As a child, I'd sit by the window and stare at the raindrops fall from the sky. It always felt so surreal to me. It always made me feel like it was here to wash things away and by standing under it, I'd feel a sense of freedom, newness or liberty.
I can't cry for some reason, cause growing up I would get told off by teachers if I cried. MEN DON'T CRY! Suck it up and be a man. So I thought by not crying, I was strong, I could finally fit in with the GUYS! I wouldn't be such a sore thumb after all.
Not being able to cry at least sometimes damages you, you hold things inside and the day you finally get to cry, it's for the most ridiculous of reasons and you feel guilty about it.
I look out at the clouds constantly tearing up. If God didn't want us to cry once in a while, why would the clouds cry sometimes? Even the clouds need to cry.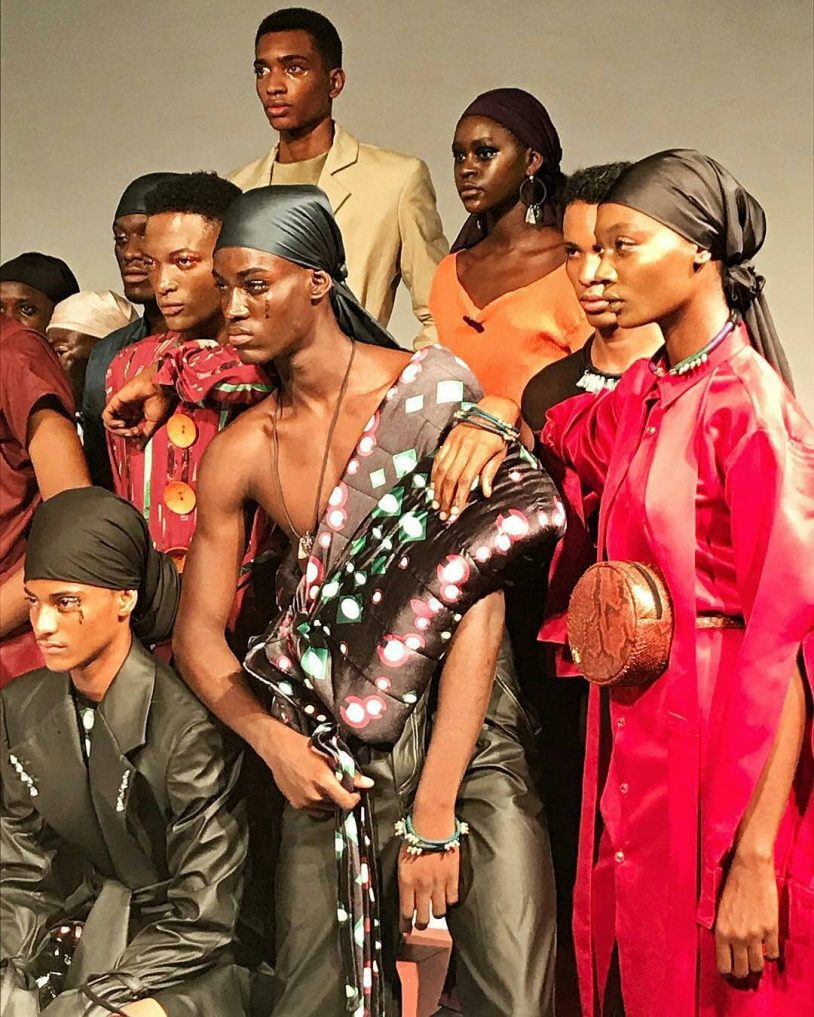 So, every-time I see the rain now, I remember it's okay to cry sometimes, all nature take its course, be vulnerable and be as beautiful as the clouds. Even the clouds cry seasonally.
After the rendition of the poetic fashion story, the models filed out and the presentation began. Orange Culture played with very soft to seemingly very hard fabrics in this collection. The choice of fabrics was a metaphor which portrayed the struggle between vulnerability and caged emotionalism. The fabrics ranged from cotton, velvet, satin, wool, and leather and each was an intricate part of the story.
As the show finally came to an end, the crowd couldn't help chattering the praise of Orange Culture crowning it the best presentation for the night.