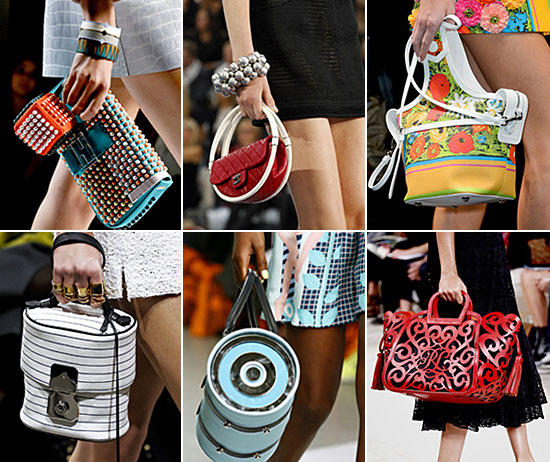 Be inspired by the latest bags trends, straight from the runway to your arms. They come in different styles, shapes and designs; totally meant to blow our mind. From transparent bags, as shown on the runway by Valentino, to the sack bag by Vera Wang, there are a lot to choose from as showcased by international designers at fashion weeks around the world.
1. Laser Cut
One of the most beautiful and original trends of 2013 fashion season are laser-perforated bags with laser cut patterns. Laser cut patterns in bags were designed by Alexander McQueen, with bags designed in honeycomb pattern.  Ralph Lauren had the leather bag cut in floral pattern and Mulberry presented the bag as perforated.
2.Sack Bags
Sack bags are also a big trend in the next season. They come in a variety of finishes and shapes; thanks to hardcase parts. Alexander Wang designed sack bags with square-shaped body, while others were spotted in a round shape as shown by Giorgio Armani.
3. Odd-shaped bags

Odd-shaped bags were all over the place during fashion weeks. Balenciaga and Holly Fulton bags created rounded shapes while Giorgio Armani went with an architectural aesthetic. Lavin created a small bag shaped as a perfume bottle.
Creative handles in bags were spotted at Chanel Show, where models carried a hoop beach bag and a minimized version of it and there were also bags that had telephone cable handles. And chain handles as designed by Miu Miu.
5. Mini-bags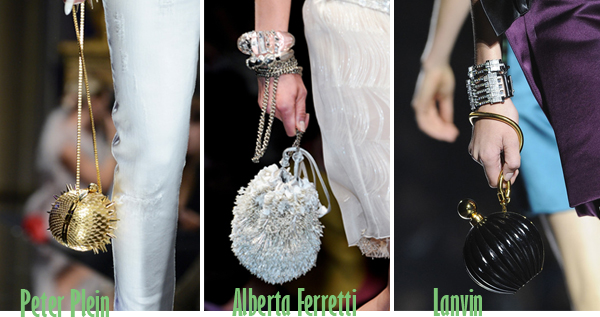 Mini-bags are a big trend this season. Offered in various shapes and styles, mini-bags can be worn on a wrist, behind a back or carried by handles. Louis Vuitton made them in classic shapes and playful checkered patterns. Mini-bags promise to be one of the most fashionable trends in the upcoming warm season. These elegant accessories can be carried by the handles, put on the wrist or on the shoulder, and even on the back.
6. Transparent bags
Transparent bags are a big trend for now. Strongly secured in vogue a few years ago, this handbag trend is now definitely present in almost every season in one form or another.
They were spotted at Jenny Packham, Valentino, Burberry Prorsum, Holly Fulton and other shows. The clutches also come in clear designs as spotted at Stella McCartney and Gucci. Other transparent bags featured such decorations as metal details and frames, rhinestones and pyramids.
There are also colourful transparent clutches and bags featured in purple, green, red, yellow, and other colours.
7. Clutches
Clutches have never gone out of fashion. In 2014; they are still relevant in different sizes, shapes and styles. Among them however are several major trends.
Clutches come in a wide variety of finishes, sizes, and styles. There are mini-clutches and over-size clutches, metallic clutches and reptile clutches, odd-shaped clutches and geometric hard-case clutches, as designed by Victoria Beckham, Reed Krakoff, Carolina Herrera, Hermes, and others.
8. Reptile Skins
Reptile skins were also all over the runway. From textured croc leather bags as showcased by Botega Venetta and Elie Saab to snakeskin and python by Giamfranco Ferre, Gucci, and Giorgio Armani, reptile skin clutches are all the rave.
9. Prints and Patterns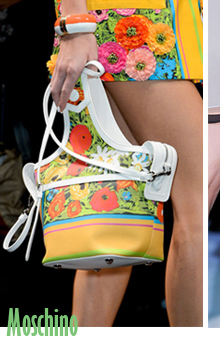 Prints and patterns in handbags range from flora,l to playful checkers to stripe,s as designed by Louis Vuitton and Moschino to name a few. Sometimes, these prints and patterns coincide with prints on clothing too. Accessories of the print trend are in the collections of designers like; Louis Vuitton, Moschino, Guy Laroche, Proenza Schouler, Stella McCartney, as well as others.
Related articles across the web