Hello my dear readers! Its the beginning of another school year for kids and as adults, we need to  restart our calendar year with healthier skin. Granted: sunscreen helps to keep your skin healthy and beautiful, protecting it from the outside in—but certain foods can shield your skin from damage from the inside out.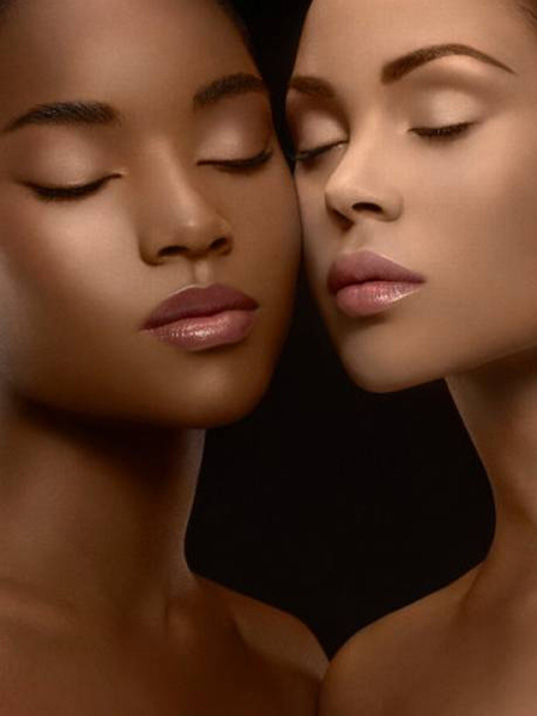 A study published in March 2010 in the Journal of the American Academy of Dermatology supports the idea that certain vitamins do help to protect our skin. Better yet, many of the same foods that can boost your defenses against skin cancer will also help keep your skin looking younger and smoother and ward off wrinkles. Today I have broken down 16 foods for beautiful radiant skin.
Tomatoes:
Consuming more lycopene—the carotenoid that makes tomatoes red—may protect your skin from sunburn. In one study, participants who were exposed to UV light had almost 50 percent less skin reddening after they ate 2 1⁄2 tablespoons of tomato paste or drank about 1 2⁄3 cups of tomato juice daily, in addition to their regular diet, for 10 to 12 weeks. Supplements, however, weren't as effective: in the same study, those who received a lycopene supplement or synthetic lycopene weren't significantly protected against sunburn.
 Salmon:
The omega-3 fatty acids DHA and EPA (docosahexaenoic and eicosapentaenoic acids, respectively) found in salmon may shield cell walls from free-radical damage caused by UV rays, according to a 2009 study in the Journal of Clinical Nutrition. Researchers followed the eating habits of more than 1,100 adults for approximately five years and found that for those who ate a little more than 5 ounces of omega-3-rich fish—such as salmon—each week the development of precancerous skin lesions decreased by almost 30 percent. Aim to eat two servings of fatty fish each week: not only are the omega-3s good for your skin, they're good for your heart too.
Papaya: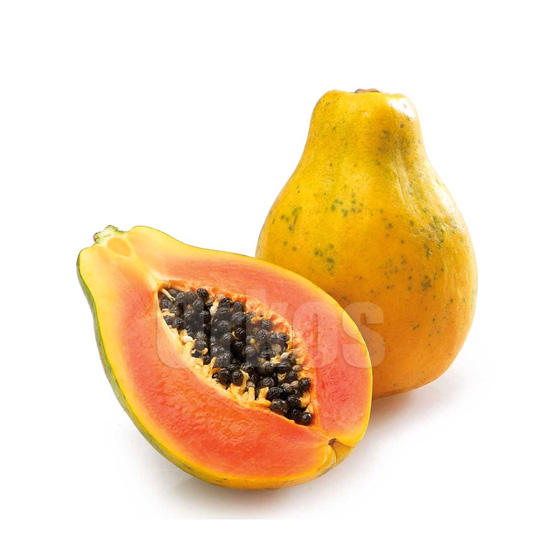 Papaya is an excellent source of vitamin C—and research suggests that vitamin C may help protect skin cells against sun damage by promoting the repair of DNA that's been harmed by UV rays. UV rays break the chemical bonds of skin cells, killing them and damaging their DNA, which may eventually cause cancerous growth. You can find vitamin C in a multitude of cosmetics—of which some have been shown to be effective in protecting skin—but why not go straight to the source for a tasty boost of vitamin C.
Grapefruit: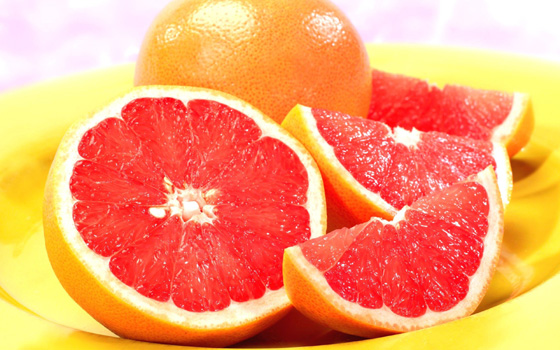 Grapefruit gets its colour from lycopene, a carotenoid that may help to keep your skin smooth. In a study published in 2008 in the European Journal of Pharmaceutics and Biopharmaceutics, researchers found that of the 20 individuals studied, those who had higher skin concentrations of lycopene had smoother skin. Particularly incorporating this fruit to your breakfast is an added plus.
Corn: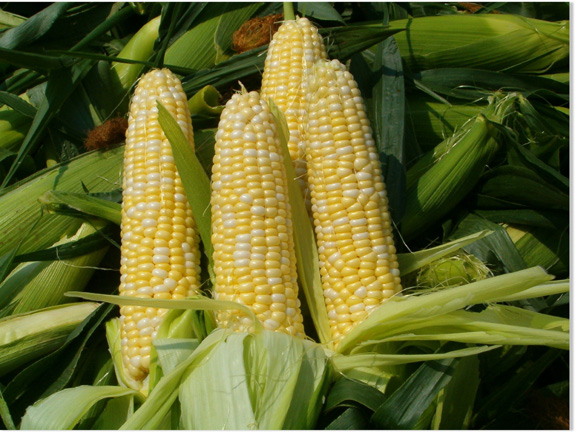 Corn is an excellent source of lutein, a type of carotenoid. Like lycopene, lutein shields your skin from UV damage. If corn is out of season, don't hesitate to turn to frozen alternatives. Frozen vegetables may be even more healthful than some of the fresh produce sold in supermarkets, says Gene Lester, Ph.D., a plant physiologist with the USDA Agricultural Research Service. Why? Fruits and vegetables chosen for freezing tend to be processed at their peak ripeness, a time when—as a general rule—they are most nutrient-packed. So don't be averse to buying from the usual supermarkets that import frozen corn into Nigeria.
 Edamame: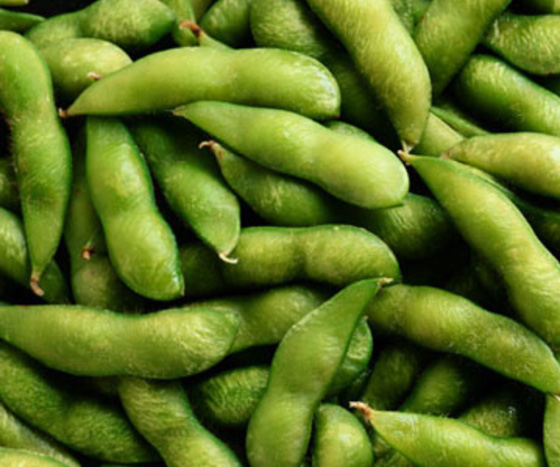 Edamame also known as green beans or soy beans is rich in isoflavones—and isoflavones act like antioxidants, scavenging for and mopping up harmful free radicals caused by sun exposure. Isoflavones may also help to preserve skin-firming collagen—which begins to decline starting in our twenties. I love this vegetable especially when I am having grilled salmon or any kind of fish. They go well together.
Tea: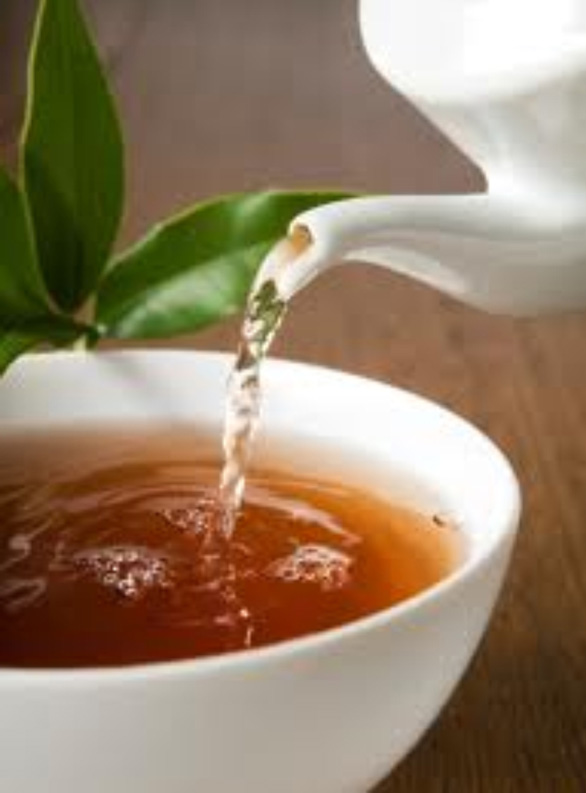 Research suggests caffeine in tea (coffee too) may help to protect your skin against skin cancer. Caffeine basically kills precancerous and ultraviolet-damaged skin cells by blocking a protein that they need to divide, explains Paul Nghiem, M.D., Ph.D., associate professor of dermatology at the University of Washington Medical School. In a study where mice were exposed to harmful sunburn-causing ultraviolet B rays caffeine inhibited the formation of skin tumors
Egg Yolk: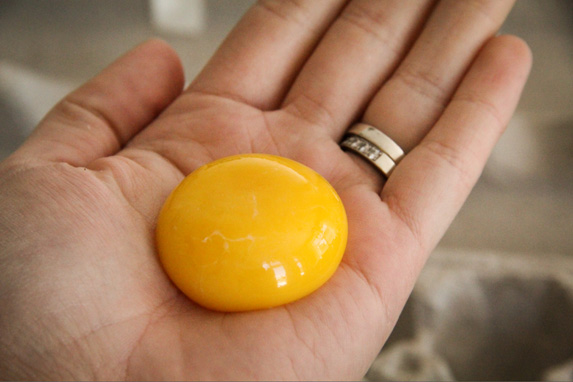 Egg yolks contain the carotenoid lutein, which like lycopene protects skin from UV damage. Lutein also helps to keep eyes healthy—mounting research links lutein with reduced risk for age-related macular degeneration, the leading cause of blindness in people over 50. But remember 2 eggs a week is the recommended amount once you are over 21.
Related articles across the web